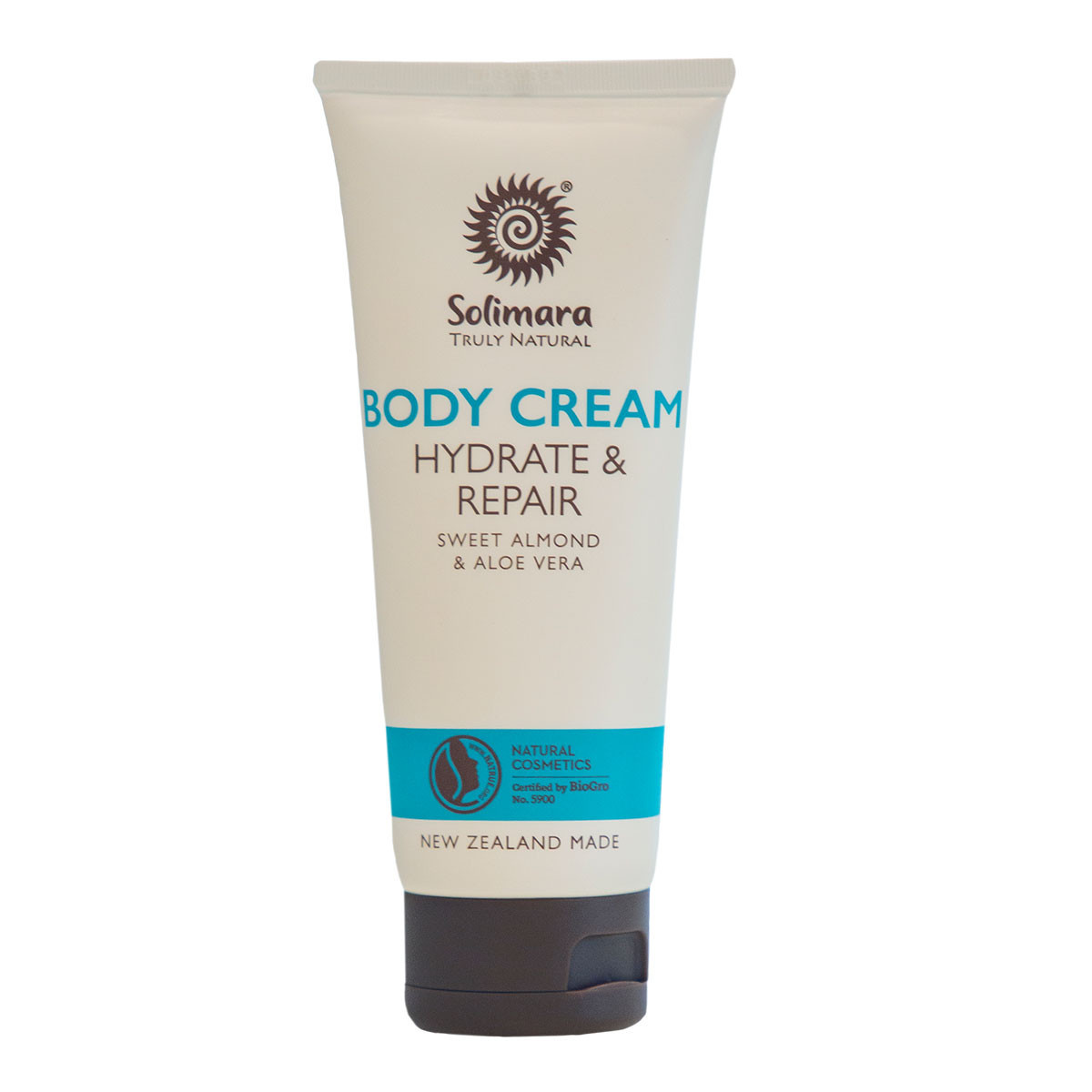 Solimara
Solimara Body Cream – Hydrate & Repair
A thoughtfully chosen blend of ONLY premium certified natural ingredients including sweet almond oil, apricot kernel oil, and aloe vera.
This light barrier nourishes, hydrates, and protects your skin against harsh environmental conditions.
Intensively moisturising with potent antioxidants to promote smooth, healthy skin.

Ethically made, free from synthetic chemical fragrances, parabens, colours, preservatives, phthalates, and silicones. The way in which the ingredients are extracted and manufactured is also ethical and natural.

Additional Information
Product Benefits
Ingredients
Highlighting just a few of the benefits of the natural superstars in this Body Cream…
Sweet almond (Prunus amygdalus dulcis) oil:
An outstanding humectant with antioxidative properties, sweet almond oil is safe for sensitive skin including baby skin. Sweet almond oil contains the antioxidant vitamin E.
Apricot kernel (Prunus armeniaca) oil:
Apricot oil is produced from the stone of the fruit and is known to have extremely nourishing qualities and is easily absorbed into the skin. Packed with strong antioxidants, apricot kernel oil can reduce oxidative stress, help to tighten and tone the skin, reducing the appearance of age spots.
Aloe barbadensis leaf juice:
Gives you a radiant and clear skin. Packed with antioxidants and vitamins, aloe vera juice benefits
our skin as it comes with many skin-healing properties and boosts our skin health. It helps to reduce
the frequency of acne appearance and treats inflammatory skin conditions such as psoriasis and
dermatitis.
All Solimara products are certified by NATRUE to be 100% truly natural. It is also a Solimara promise that all future new products will also be certified in the same way. When the NATRUE Label appears on a package, you can be sure that the product it contains is not only compliant with a strict standard but also that a reliable certification process has been carried out by independent certification bodies.
For All Skin Types

Solimara products are designed to be kind and gentle to even the most sensitive skin.

Coral Reef Safe

Solimara products only contain certified natural ingredients which are not only safe for your skin but also kind on the environment.

No Animal Testing

We do not test our products on animals and absolutely do not support animal testing. Ever. All animals have the right to live in a world without suffering just as much as we do. There is simply no excuse in doing so.

NZ Made

New Zealand is known for quality products produced in a clean green environment under fair working conditions. You can be confident that Solimara is truly 100% New Zealand made and owned.
Aqua, Prunus Amygdalus Dulcis (Sweet Almond) Oil, Aloe Barbadensis Leaf Juice, Coco-Caprylate,Cetearyl Olivate (and) Sorbitan Olivate, Glyceryl Stearate SE, Prunus Armeniaca (Apricot) Kernel Oil, Cetyl Alcohol, Glycerin, Sodium Stearoyl Glutamate, Dehydroacetic Acid (and) Benzyl Alcohol (and) Aqua, Xanthan Gum, Fragrance (Natural), Citric Acid, Benzyl Salicylate*, Limonene*.
*Part of the natural fragrance.