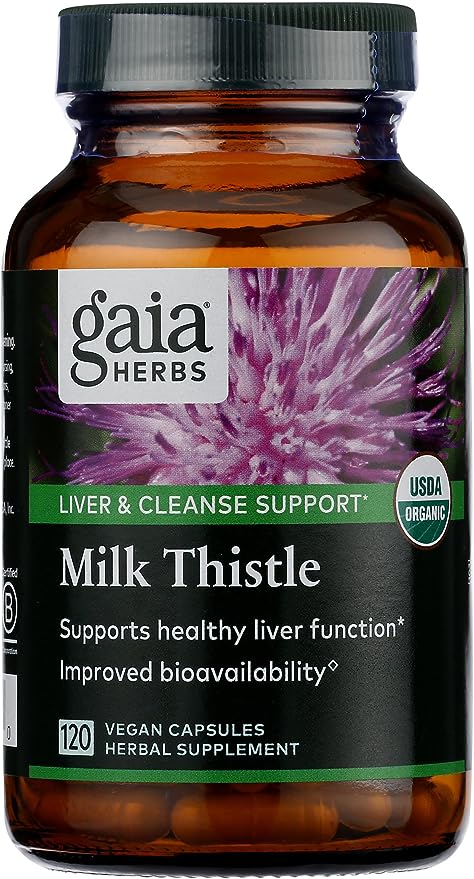 Gaia Herbs
Gaia Herbs Milk Thistle 60 Vegan Capsules
Traditionally for maintaining healthy liver function*
Promotes a healthy liver*
Turn to this formula to maintain liver function and support your overall well-being for the long term.*
---
Our Milk Thistle is extracted to preserve optimal potency*
Contains Silactive® Milk Thistle fruit extract with a 3 capsule serving being equivalent to 22,500 mg of dry herbs*
---
One of our best-selling liver formulas, in convenient capsules*
Use this formula at home or on the go to help keep your liver functioning at its best.*
Additional Information
Product Benefits
Ingredients
Dosage
Precautions
Purity-Tested
What is Milk Thistle Used For?
Numerous scientific studies have explored Milk Thistle and a group of its constituents called silymarins. Many of these clinical studies have demonstrated that this herb supports healthy liver function and provides powerful antioxidant protection. A primary constituent of silymarin called silibinin also helps to support healthy liver function, encouraging healthy cholesterol synthesis by the liver.* In addition to its well-recognized role in promoting liver health, key constituents in Milk Thistle also help to maintain normal kidney function and promote optimal immune function. Limited research suggests that this herb may also support healthy prostate function, and encourage a vital gastrointestinal tract by protecting it from free radical damage. More research is warranted to support the use of this herb for supporting its role beyond enhancing healthy liver function.*
Each 3-capsule serving delivers 375 mg silymarins from 22,500 mg dry herb equivalent.


Other Ingredients: Organic acacia gum, organic rice hulls, and vegan organic capsule (organic pullulan).
Does not contain: Corn, Dairy, Gluten, Peanuts, Shellfish, Soy, Sugar, Tree Nuts, Yeast
Adults take 3 milk thistle capsules daily in the evening.
Not for use during pregnancy or lactation. If you have a medical condition or take medications, please consult with your doctor before use. Store away from children. Use only as directed on label. Safety-sealed for your protection. Keep bottle capped at all times and store in a cool, dry place. Natural separation may occur. This does not affect product quality.