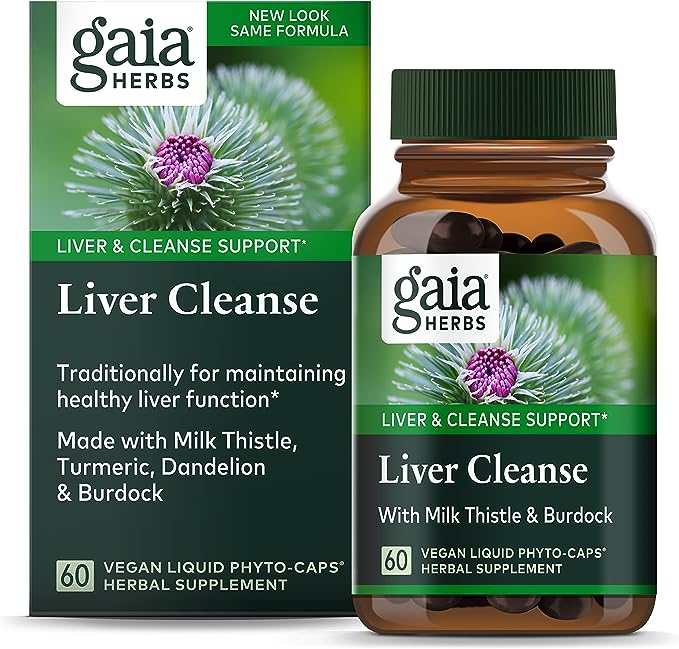 Gaia Herbs
Gaia Herbs Liver Cleanse 60 Vegan Liquid Pyhto-Caps
Traditionally for maintaining healthy liver function*
Short-term support to keep your liver operating at its best*
Proper liver function is essential to overall health: The liver helps remove waste products, processes nutrients, and more.
---
With Milk Thistle, Turmeric, Dandelion and Burdock
This blend has been traditionally used to sustain healthy liver function and support the body's natural cleansing process.*
---
A go-to when you feel like your body needs a reset*
Our modern lifestyles aren't always easy on the body. Turn to this formula when your liver needs an herbal helping hand.*


Liver Cleanse is supported by powerful cleansing herbs, which have been sourced with the utmost care. The Turmeric is regeneratively grown in an organic agroforestry setting, while the Figwort and Red root are U.S. Wild.
The majority of the artichoke leaf, and all Burdock root and Black radish are Regenerative Organic Silver Certified from Gaia Herbs' farm in North Carolina.
Additional Information
Product Benefits
Ingredients
Dosage
Precautions
Vegan

Soy-Free

Purity-Tested

Dairy-Free

Gluten-Free
Short-term support to keep your liver operating at its best*
With Milk Thistle, Turmeric, Dandelion and Burdock
A go-to when you feel like your body needs a reset*
Each 1-capsule serving delivers 1,250 mg dry herb equivalent.
Milk Thistle Seed (Silybum marianum), Turmeric Root (Curcuma longa), Corydalis Yan Hu Suo Tubers (Corydalis yanhusuo), Artichoke Leaf (Cynara scolymus), Dandelion Root (Taraxacum officinale), Yellow Dock Root (Rumex crispus), Burdock Root (Arctium lappa), Roobius Aerial Parts (Aspalathus linearis), Rooibus Aerial Parts (Aspalathus linearis), Black Radish Root (Raphanus sativus var. niger), Figwort Aerial Parts (Scrophularia nodosa), Gentian Root (Gentiana lutea), Fenugreek Seed (Trigonella foenum-graecum), Ginger Root (Zingiber officinale), Red Root Root (Ceanothus americanus) Capsule (vegetable cellulose), Water, Vegetable Glycerin

Other Ingredients: Vegetable glycerin, water and vegan capsule (hypromellose).
Does not contain: Corn, Dairy, Gluten, Peanuts, Shellfish, Soy, Sugar, Tree Nuts, Yeast
Adults take 1 capsule 2 times daily between meals for up to 3 to 4 months.


Not for use during pregnancy or lactation. If you have a medical condition or take medications, please consult with your doctor before use. Store away from children. Use only as directed on label. Safety-sealed for your protection. Keep bottle capped at all times and store in a cool, dry place. Natural separation may occur. This does not affect product quality.