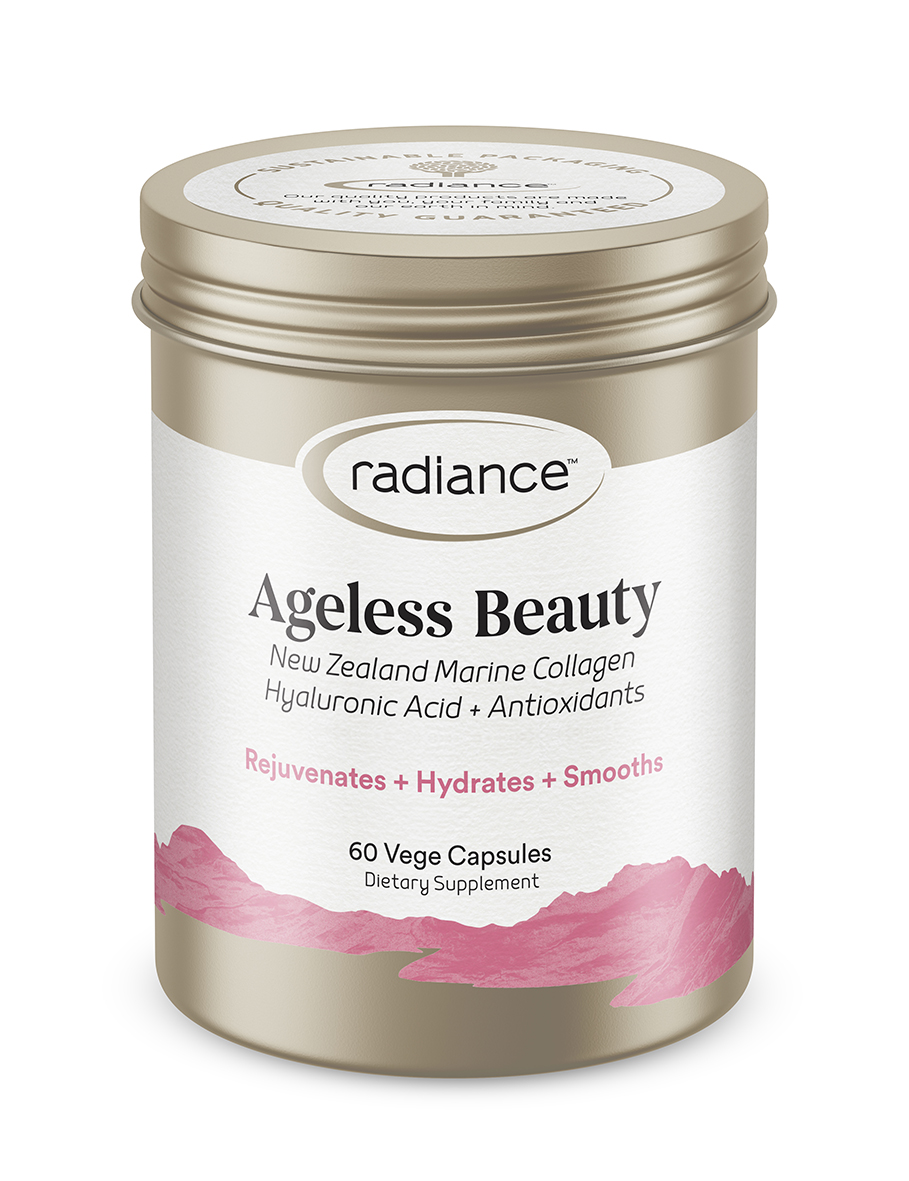 Radiance
Radiance Ageless Beauty 60 Capsules
Radiance Ageless Beauty: Support for healthy, glowing, youthful looking skin. People who work outside and those wanting support from free radical damage for their skin. Supports those with skin conditions, scars, fine lines and wrinkles, dull, saggy skin. For those wanting a superior antioxidant formula.
Additional Information
Product Benefits
Ingredients
Dosage
Precautions
Provides ingredients carefully selected for their beneficial effects on the skin, including hydration, building, strengthening and rejuvenating, antioxidant protection and clear skin cleansing.
Complete nutritional support for gorgeous, youthful skin in one formulaPremium pure New Zealand Marine Collagen complex—greater bio-availabilityTechnologically advanced New Zealand Vinanza® Skin Performance Plus & Enzogenol® from pure, pristine New Zealand. Improved skin hydration, strength, elasticity & reduced redness. Protection from oxidative stress to slow the aging process, Supports collagen formation & skin cell production, Liver, adrenal, immune & hormonal support. Supports healing & repair for wounds, skin conditions, rough, dry, dull, sagging or aging skinPromotes not only skin, but whole body health. Assists with protection from damage by UV light.
NZ marine collagen complex 250mg, Vitamin C (Ascorbic acid) 75mg, Vinanza® Skin Performance Plus 75mg, Enzogenol® pine bark extract (83-90% proanthocyanidins) 25mg, Schisandra chinensis (equiv. to dry fruit) 250mg, Silica (Colloidal anhydrous) 25mg, Vitamin E (d-alpha tocopherol) 20IU, Vitamin B6 (Pyridoxine HCl) 10mg, Beta-carotene (pro-vitamin A) 5mg, Zinc (Amino acid chelate) 5mg, Selenium (Selenomethionine) 40µg
Adults: Take 1 capsule twice daily with food.
Safety in pregnancy & lactation has not been established. No evidence to suggest contraindication with blood thinning medication (aspirin, warfarin), should be avoided by those with fish protein allergies.