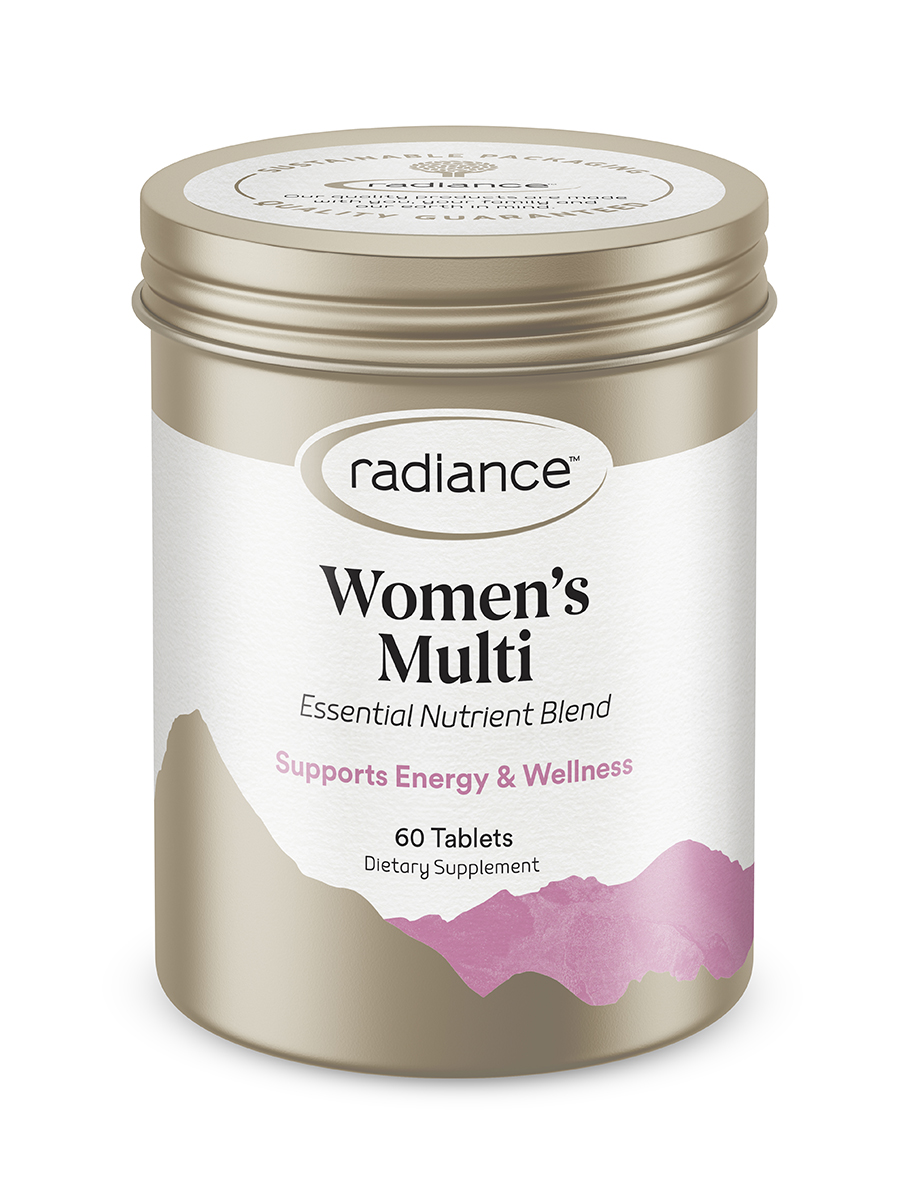 Radiance
Radiance Multi for Women 60 Tablets
Why should I take Multi for Women? Stress, work pressure, family demands, illness and many other problems deplete the body of the daily nutrients it needs to function properly and perform at its best. An easily absorbed and assimilated formulation, Radiance Multi For Women provides a highly effective and powerful broad-spectrum nutritional and herbal daily dietary supplement.
Additional Information
Ingredients
Dosage
Radiance® Multi for Women is a highly effective and energising multi vitamin and mineral for women. A well-balanced synergistic blend of essential vitamins, minerals and nutrients with herbs and plant enzymes that help nutritionally tone and nourish the female system.
Ingredients (per tablet):Beta-carotene (Pro-vitamin A 3,333IU) 2.3mgCopper 333µgVitamin B1 8mg Iodine 7.5µgVitamin B2 8mg Iron (bisglycinate) 6mgVitamin B3 17mg Magnesium 83mgVitamin B5 17mg Manganese 3mgVitamin B6 17mg Molybdenum 17µgVitamin B12 67µg Potassium 8mgFolic acid 267µg Selenium 33µgBiotin 100µg Silica 17mgCholine 8mg Zinc 7mgInositol 8mg Dong quai extract 33mgPABA 8mg Ipriflavone 8mgVitamin C 100mg Royal jelly 17mgVitamin D 133IU Siberian eleuthero 33mgVitamin E 67IU Soy isoflavones 10mgVitamin K 27µg Vitex extract 17mgBoron 333µg Wild yam extract 17mgCalcium 167mg Plant enzymes 33mgChromium 33µg Betaine HCl 33mg Also contains: Cellulose, stearic acid, croscarmellose sodium, magnesium stearate, vegetable & chlorophyll coating.
Contains no: Corn, egg, gluten, milk derivatives, nuts, salt, sugar, wheat, yeast, artificial preservatives, flavouring or colours.
Helpful wherever the diet is insufficient to meet the needs of the body due to diet, disease or lifestyle. Ideal for busy, active, multi-tasking or stressed women, from 13 years of age.
Dosage:One tablet daily.
You might also be interested in...