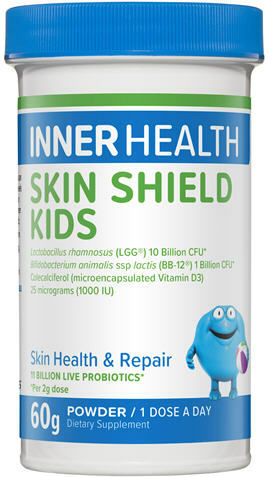 Inner Health
Inner Health Skin Shield Kids 60g
Inner Health Skin Shield Kids
is suitable for pregnant women and children and may support:
Reduce the incidence of eczema and allergies in children
Reduce the symptoms of eczema such as itching and sleeplessness
Reduce the incidence of children with allergic rhinits
Support immune system health
Ingredients
Dosage
Precautions
Each 4g Dose Contains:
Lactobacillus rhamnosus (LGG®) 20 Billion Live Bacteria
Mix the following into water, juice, formula or milk (warm or cold). Sprinkle on cereal, food or take directly off the spoon. Alternatively take as advised by a healthcare professional.
Children from birth: Take 2g (½ metric teaspoon) daily.
Adults, pregnant and breastfeeding women: Take 4g (1 heaped metric teaspoon) daily.
This product should be refrigerated
Do not use if cap and/or bottle seals are missing or broken.Always read the label. Use only as directed. If symptoms persist consult your healthcare professional.Store at 2°C to 8°C. (Refrigerate. Do not freeze.)
Ethical Nutrients are proud supporters of the Eczema Association of Australasia Inc.