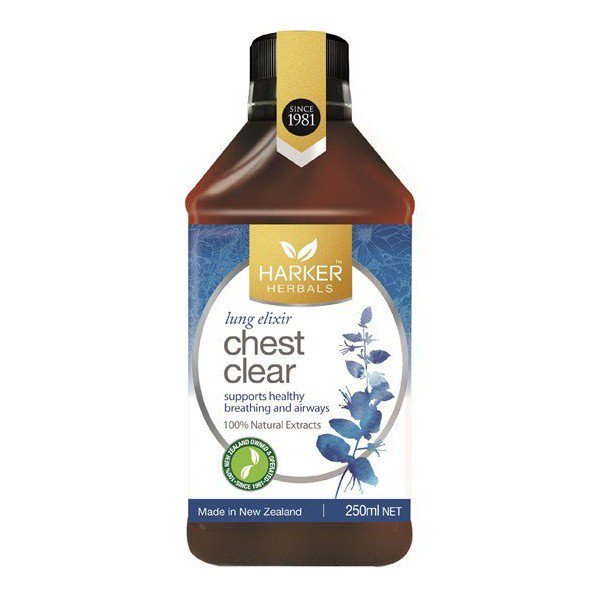 Harker Herbals
Harker Herbals Chest Clear 250ml
Harker Herbals Chest Clear opens the airways of the upper respiratory tract, making breathing easier, and dampens the cough reflex, leading to more restful sleep.
Additional Information
Product Benefits
Ingredients
Dosage
Precautions
Chest Clear is a 100% natural tonic made from 8 powerful pure essential oils and supporting herbs selected specifically for their medicinal and healing properties. It has antiseptic properties to support a healthy bronchial and respiratory tract for the whole family.
Chest Clear is useful for a dry, persistent cough and mild breathing difficulties.
The essential oils in Chest Clear provide relief within 30 seconds as the vapours are absorbed directly into the mucus membranes.
Chest Clear is suitable for the very young or elderly to widen the bronchial tubes in the upper region of the lungs and provide relief for the airways and respiratory tract under stress, making breathing easier.
Chest Clear is made from 100% natural herbal extracts and pure essential oils, many of which are recommended to fortify and strengthen the body's inherent resistance to disease and illness.
Chest Clear is for:
People with a persistent dry cough and sore throat.
People with mild breathing disorders that make breathing difficult (such as wheezing which is associated with asthma).
People suffering mild to moderate congestion of the upper chest area where the chest feels tight and produces clear, stringy mucus.
People who have a persistent dry cough from just under the thyroid area that prevents them from getting a good night's sleep.
Children and babies with a persistent dry cough, but at a reduced dosage.
The elderly, particularly those who are more susceptible to respiratory illnesses.
Unlike many other herbal products that are dispensed as compressed powdered herb tablets, Harker Herbal liquid tonics are all created in accordance with traditional time-honored methods; by boiling the herbs for several hours in stainless steel boilers and adding pure essential oils extracted from finely crushed herbs. No yeast, gluten, wheat, dairy products, artificial colours or sweeteners are added to our tonics. Our tonics contain 100% natural extracts of herbs and oils and are created according to the original formulas created by Malcolm Harker M.H.D. many years ago. Malcolm Harker selected these herbs selected specifically for their medicinal and healing properties.
Harker Herbals is 100% New Zealand owned and operated, ensuring complete control over quality of ingredients and production.
Active Ingredients:
Camphor Oil, Pine Oil.
Herbs:
Carrageen, Licorice.
Pure Essential Oils:
Cedarwood, Eucalyptol, Clove, Jojoba, Lemon, Lime, Menthol, Peppermint.
Plus:
Celtic Sea Salt, Citric Acid, Organic Iodine, Vegetable Glycerine.
Can be taken up to 6 x daily at 5ml per dose.
Heavier people and chronic conditions can take up to 10-15ml, 6 x daily.
Best taken straight or in 50mls of boiled water as a tea.
Dietary Advice: Avoid – mucus-forming foods such as gluten, egg-white, chocolate, sugar, dairy, polyunsaturated oils, regular salt.
Caution during pregnancy.
Store in cool, dry conditions until opened.
Refrigerate after opening and use within 90 days Not to be taken in pregnancy or lactation.
Use only as directed.
If taking prescribed medication, consult your health professional before taking our tonics.
If symptoms persist, seek professional medical advice.