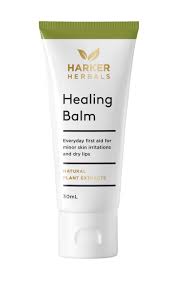 Harker Herbals
Harker Herbals Healing Balm 30ml
A must-have for everyday use and the first-aid kit. Natural antiseptic properties and rich lanolin make this useful for minor abrasions, cracked skin and as a protection from sun and wind.
Product Benefits
Ingredients
Dosage
Precautions
Great as a lip balm and protection from the drying effects of sun and wind
Soothes chapped and cracked lips, and supports healing
Useful for minor cuts and abrasions, especially on elbows, knees and heels
Suitable for all ages
Ideal for the first aid kit!
Contains:
CEDARWOOD
EUCALYPTOL
EUGENOL
JOJOBA
MENTHOL
OLIVE
PINE
THYMOL
ROSEMARY
LEMON
TURPENTINE
LANOLIN
Apply to the skin as needed.
Always read the label and use as directed. If symptoms persist, see your healthcare professional.