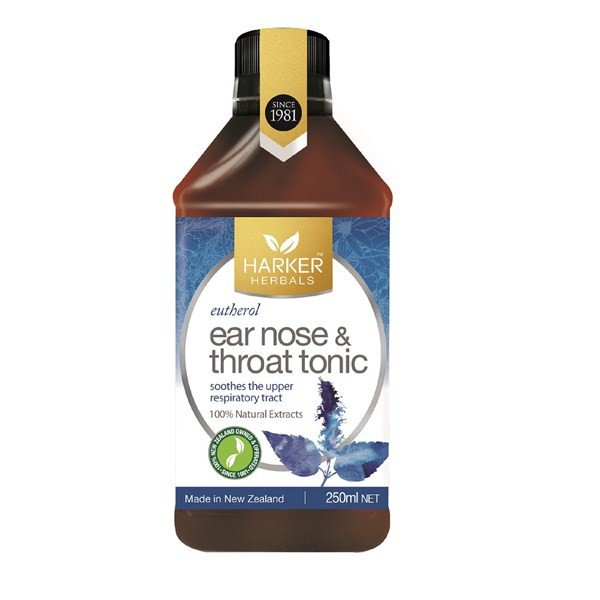 Harker Herbals
Harker Herbals Ear Nose & Throat Tonic 250ml
Harker Herbals Ear, Nose & Throat Tonic (Formally Malcolm Harker 713 Eutherol) - This elixir provides exceptional respiratory support and also assists as a blood and lymph purifier, supports for the immune system and restores general health.
Additional Information
Ingredients
Dosage
Precautions
The Eugenol and Eucalyptol found within this elixir contains ample amounts of ozone, which is the atomic quintessence of oxygen. Ozone purifies and disinfects the blood, lymph and tissue cells and is a great antiseptic.
This elixir provides exceptional respiratory support.
Blood and lymph purifier.
Support for the immune system.
Restores health.
Apply to stings, bruises, muscles.
Harker Herbals Ear, Nose & Throat Tonic can also be applied to stings, bruises and sore muscles.
Oils & Ethers
Camphor Laurel (Cinnamomum camphora (also known as Laurus camphora) - Oil of leaves and wood)
Cedarwood (Cedrus deodara - Aromatic oil of the wood)
Eucalyptol (Eucalyptus globules - Ether of Eucalyptus oil)
Eugenol (Eugenia aromaticum - The ether of Clove oil)
Jojoba (Simmondsia chinensis - Oil from the seed)
Lemon (Citrus limonum - Oil from the lemon rind)
Lime (Citrus aurantifolia (also known as Citrus medica var. acida and C. latifolia) - Oil from the lime rind)
Menthol Oil (Mentha piperita - Menthol is derived from Peppermint oil.)
Peppermint (Mentha × piperita - Oil from the whole plant (above ground) just before flowering)
Pine (Pinus sylvestris - Oil from the Pine needles)
Rosemary (Rosmarinus officinalis - Oil of the flower and leaf)
Herbs
Licorice (Glycyrrhiza glabra - Syrup made from the powdered root)
Seaweeds
Carrageen (Irish Moss) (Chondrus crispus)
Sundries
Celtic sea salt (Mer Sal - Unprocessed, sundried sea salt)
Citric acid (From the latin word 'citrus')
Glycerine (veg) (A sweet tri-atomic alcohol)
Iodine (Iodas ('violet-coloured') - Greek - Natural seaweed ash-derived organic iodine)
U.V. Light-Treated Rain Water
Best taken straight by 1 to 1½ teaspoon straight for most disorders or by drops for infants and general prevention. Can be taken in 50mls of boiled water as a tea.

Dietary Advice: Avoid - mucus-forming foods such as gluten, egg-white, chocolate, sugar, dairy, polyunsaturated oils, regular salt.

Adopt - gluten-free grain foods, whole foods (greens, fruits, nuts, seeds), unprocessed coconut oil, 1022 Celtic & NZ Sea Salt with kelp, oxygen-rich water. For best results use with 825 Verm-ez for 1 - 2 weeks. Swill prior to swallowing.
Contains Menthol, shake vigorously before use.Shake bottle vigorously prior to each dose. To accustom to product take a ¼ to ½ dose for the first 2 or 3 days. If taking prescribed medication, consult with your Doctor prior to using 'Malcolm Harker' herbal tonics. Avoid coffee or tea for ¼ hour before and after dose.
Do not exceed stated dose. Keep out of reach of children. While some sources suggest that some ingredients contained in this product should not be taken during pregnancy, Malcolm Harker M.H.D. considers that this product may be taken during pregnancy if the dose is reduced to a ¼ of the recommended dosage during the first 12 weeks of pregnancy or when attempting conception.
Glycyrrhiza Glabra (whole root liquorice) may increase blood pressure. Care is required for people on blood pressure medicines – check with your doctor first.