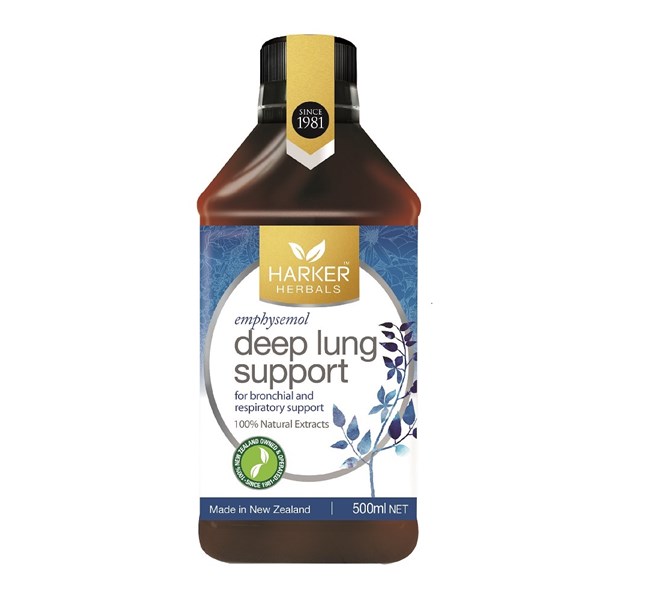 Harker Herbals
Harker Herbals Deep Lung Support 500ml
Harker Herbal Deep Lung Support is useful in supporting the clearing of mucus in the airways.
Additional Information
Product Benefits
Ingredients
Dosage
Precautions
Deep Lung Support is a natural tonic made from more than 20 powerful herbs and pure essential oils selected specifically for their supportive properties. We source only the very best herbal ingredients grown in New Zealand and overseas. The active ingredients selected for Deep Lung Support are added to a base of stabilising and mixed purpose herbs. Kumerahou, a key ingredient is known to support normal blood function and circulation, as well as healthy breathing.
Other key ingredients include elecampane, a naturally antiseptic herb that acts to support the clearing of mucus and helps soothe the throat tickle.
May help soothe the throat tickle at night to support restful sleep.
Can be taken to support the immune defences in the lungs and to help clearing of mucus
Suitable for the very young or elderly to help clear mucus in the lungs and soothe the bronchial and respiratory tract when under stress, supporting clear airways
Active Ingredients:
Elecampane
Horehound
Juniper Oil
Menthol
Herbs:
Irish Moss
Cayenne Pepper
Coltsfoot
Ginger Root
Kumerahou
Licorice
Pleurisy Root
Lobelia Inflata (<10ppm)
Pure Essential Oils:
Cedarwood
Eucalyptus
Clove
Jojoba
Lemon
Peppermint
Pine
Rosemary

Plus: Celtic Sea salt, citric acid, organic iodine, vegetable glycerine.
Contains no yeast, gluten, wheat, dairy products, artificial colours or sweeteners.
No added sugar.
Shake vigorously before use. Swill for 10 seconds before swallowing.
Adults: 10-20mls, 3 to 4 times daily.
Children: 5mls, 3-4x daily
Infant: 2.5mls, 2-3x daily
Store in cool, dry conditions until opened. Refrigerate after opening and use within 90 days.
Not to be taken in pregnancy or lactation.
Use only as directed.
If taking prescribed medication, consult your health professional before taking our tonics.
If symptoms persist, seek professional medical advice.