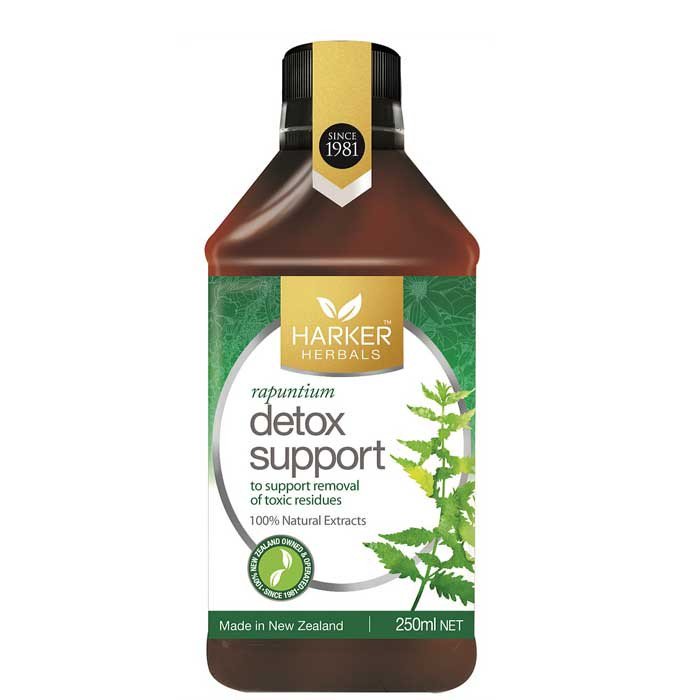 Harker Herbals
Harker Herbals Detox Support 500ml
Harker Herbals Detox Support is an effective detoxification tonic that helps rid the body, blood and lungs from residue of chemicals, poisons and other toxins such as nicotine, tetra hydrocannabinols and drugs. With a rich number of herbs including carrageen to dissolve mucus (great for lung health), horehound leaf, vervain leaf, yellow dock root, and other pure essential oils for cleansing and healing – Rapuntium will help return the body to a cleaner state.
Product Benefits
Ingredients
Dosage
Precautions
Effective detoxification of the blood from nicotine, tetra
hydrocannabinols, drugs, alcohol and other chemicals.
Supports lung health.
Helpful for recovery from food poisoning and the results of
food excess.
Oils & Ethers

Aniseed (Pimpinella anisum)
Cinnamon (Cinnamomum Zeylanicum)
Clove Bud (Eugenia caryophyllata)
D'Limonene (Extracted from citrus species)
Jojoba (Simmondsia chinensis)
Orange (Citrus aurantium)
Patchouli (Pogostemon cablin (also known as Pogostemon patchouli))

Herbs

Cayenne pepper or Chilli (Capsicum minimum)
Common vervain (Verbena officinalis)
Ginger (Zingiber officinalis)
Horehound (Marrubium vulgare)
Kumarahou (Kumarahou pomaderris)
Licorice (Glycyrrhiza glabra)
Marshmallow (Althaea officinalis)
Yellow dock (Rumex crispus)

Seaweeds

Carrageen (Irish Moss) (Chondrus crispus)

Sundries

Celtic sea salt (Mer Sal)
Citric acid (From the latin word 'citrus')
Glycerine (veg) ()
Iodine (Iodas ('violet-coloured') – Greek)
U.V. Light-Treated Rain Water ()
Adult: 5 - 10ml, 3 - 4 times daily.
Child: 1/2 dose, 3 - 4 times daily.
Baby: 1/4 dose, 3 - 4 times daily.

Best taken straight or by drops for infants. Can be taken in 50mls of boiled water as a tea. Shake bottle vigorously prior to each dose. To accustom to product take a ¼ to ½ dose for the first 2 or 3 days.

Avoid – mucus-forming foods such as gluten, egg-white, chocolate, sugar, dairy, polyunsaturated oils, regular salt. Adopt – gluten-free grain foods, whole foods (greens, fruits, nuts, seeds), unprocessed coconut oil, 1022 Celtic & NZ Sea Salt with kelp, oxygen-rich water. For best results use with 825 Verm-ez for 1 – 2 weeks. Swill prior to swallowing.
Do not use during pregnancy.
Caution if using Loop diuretic, Thiazide Diuretic or Warfarin medication. Consult your natural health practitioner if using these medications.
Glycyrrhiza Glabra (whole root liquorice) may increase blood pressure. Care is required for people on blood pressure medicines – check with your doctor first.