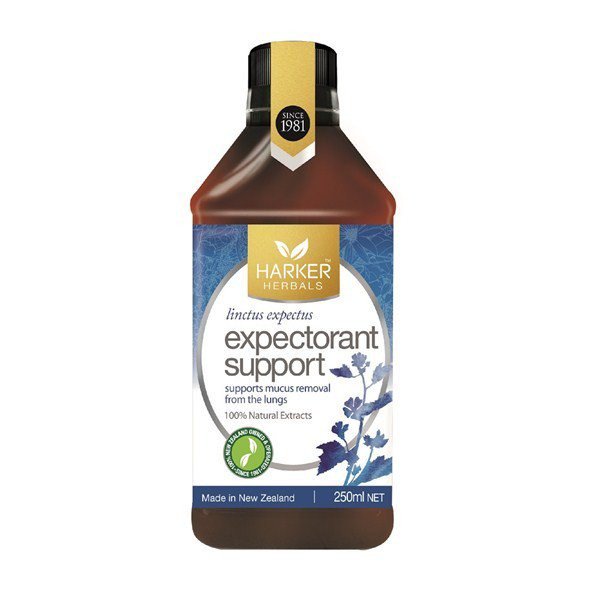 Harker Herbals
Harker Herbals Expectorant Support 250ml
Harker Herbals Expectorant Support 2000 Linctus Expectus is a specific elixir that can be taken alone, or in conjunction with our other respiratory formulas.
Its combination of herbs and pure essential oils work together to loosen and assist in removing mucus from the lungs. The elixir soothes the airways and provides additional nutrients to the body.
Especially suited to dry throat and annoying 'tickle' in the back of the throat.
Ingredients
Dosage
Precautions
Oils & Ethers
Camphor Laurel (Cinnamomum camphora (also known as Laurus camphora))
Cedarwood (Cedrus deodara)
Jojoba (Simmondsia chinensis)
Lemon (Citrus limonum)
Lime (Citrus aurantifolia (also known as Citrus medica var. acida and C. latifolia))
Menthol Oil (Mentha piperita)
Peppermint (Mentha × piperita)
Pine (Commercial) (Pinus radiata)
Spearmint (Mentha spicata (also known as Mentha viridis))
Herbs
Cayenne pepper or Chilli (Capsicum minimum)
Comfrey (Symphytum officinale)
Elecampane (Inula helenium)
Ginger (Zingiber officinalis)
Marshmallow (Althaea officinalis)
Gums
Acacia (Acacia decurrens)
Seaweeds
Carrageen (Irish Moss) (Chondrus crispus)
Sundries
Celtic sea salt (Mer Sal)
Citric acid (From the latin word 'citrus')
Glycerine (veg) ()
Iodine (Iodas ('violet-coloured') – Greek)
U.V. Light-Treated Rain Water
Shake vigorously before use.
Recommended Dosage:
Adult: 5 - 10ml, 3-4 times daily.
Child: 1/2 dose, 4-6 times daily.
Baby (over one year): 1/4 dose, 4-6 times daily.
Swill for 10 secs before swallowing.
Caution during pregnancy, if using Loop diuretic, Thiazide Diuretic or Warfarin medication. Consult your natural health practitioner if using these medications.