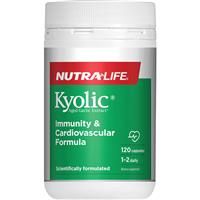 Nutra-Life
Nutra-life Kyolic Aged Garlic Extract 120 Capsules
Garlic supports the activity of the white blood cells, helps protect us by optimising our defences and is also a proven natural immune supporter.
Additional Information
Product Benefits
Ingredients
Dosage
Precautions
Nutra-Life Kyolic® Aged Garlic Extract High Potency Formula 112 is a truly odourless garlic extract made from 100% organically-grown garlic cloves. Nutra-Life Kyolic Formula 112 gives you all of the potent immune and antioxidant benefits of garlic without the garlic breath.
The Aged Garlic Extract in Nutra-Life Kyolic Formula 112 has been shown to provide a wide range of benefits, including powerful support for immunity, heart health, healthy blood pressure and cholesterol levels, and maintaining general wellbeing. Product featuresMade from organically-grown garlicNaturally aged for up to 20 months to convert the harsh, odourous sulfur compounds in fresh garlic into health-supporting, odourless ones. A rich source of antioxidants that can help your body protect itself against free radical damage.
Each vege capsule provides:
Allium sativum (Garlic) bulb dry extract 252mg
Equiv. Allium sativum bulb fresh 756mg
Chromium (as picolinate) 8.75µg
Thiamine (as hydrochloride) (Vitamin B1) 300µg
Encapsulating aids.
Take 1-2 Capsules daily. Or as directed by your healthcare professional
If you are taking any prescription medication, especially Warfarin or other blood thinners, do not use this product without medical supervision. Always read the label. Use only as directed and if symptoms persist, consult a healthcare professional.