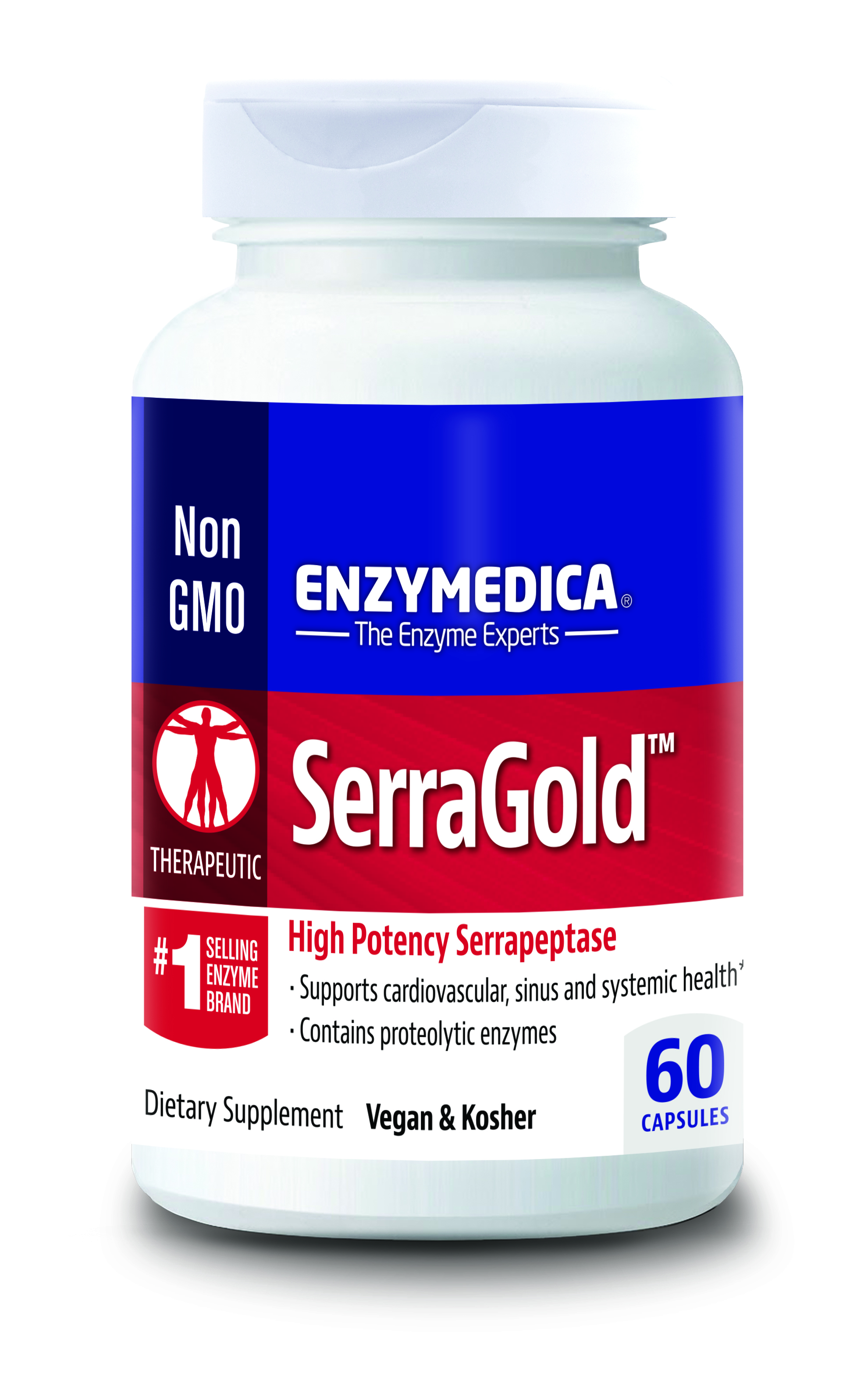 Enzymedica
Enzymedica Serra Gold 60 Capsules
Enzymedica SerraGold has been formulated using the potent Serratiopeptidase enzyme and Enzymedica's unique Protease Thera-blend™ and is intended for those seeking the highest potency Serratiopeptidase available.
Additional Information
Ingredients
Dosage
Precautions
Serratiopeptidase (serrapeptidase) is a proteolytic enzyme that has been shown in many studies to support immune function. It is also known for supporting circulation and cardiovascular health. It supports joint health and comfort and respiratory health. Serratiopeptidase has protein, mucus and fibrin-digesting properties and has also been shown to support the transfer of antibiotics to the site of an infection.
SerraGold's™ unique formula contains a vegetarian source of serrapeptidase, eliminating the need for enteric coating and provides minerals for making this high potency formula easy on the stomach.
Serving size: 1 capsule
Calcium (from Calcium citrate)…18mg
Magnesium (from Magnesium citrate)… 0.1mg
Protease Thera-blend™…80,000 HUT
Serrapeptase….100,000 SPU
Other Ingredients: 100% vegetarian capsule (cellulose, water).
Contains No: egg, dairy, preservatives, salt, sucrose, soy, wheat, yeast, nuts, corn, gluten, casein, potato, rice, artificial colours or flavours.
Suggested Use: Take 1 capsule of SerraGold daily before bed and upon rising.
More may be taken as needed or as recommended by a health professional.
Keep product closed and in a dry place; avoid excessive heat.
Keep out of reach of children.
There are no clinical studies reporting any drug interactions however check with your practitioner if you are currently taking Warfarin or other blood thinning medications.
If pregnant or breastfeeding always check with your health practitioner before taking metabolic enzymes.
Always read the label and use as directed. If symptoms persist see your healthcare professional.