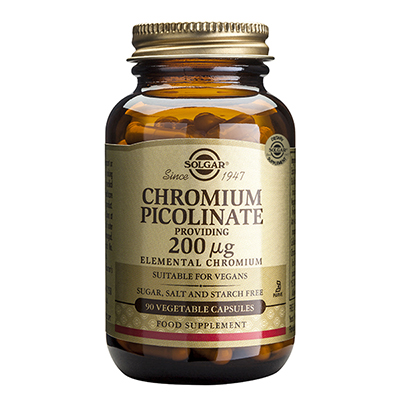 Solgar
Solgar Chromium Picolinate 200mcg 90 Capsules
Chromium is an important mineral vital for healthy blood sugar balance. Poor regulation of blood sugar can lead to energy slumps, sugar cravings, difficulty maintaining a healthy body weight, and poor cardiovascular health. Chromium is a commonly deficient mineral due to the high intake of refined and sugary foods in modern diets. Solgar Chromium Picolinate is yeast free.
Additional Information
Product Benefits
Ingredients
Dosage
Precautions
As a trace mineral, Chromium is an essential nutrient that your body needs every day. The term "trace" means that Chromium is a mineral that's found in the body in very small amounts (less than 5 grams), which may make taking a Chromium supplement especially important. Solgar Chromium Picolinate provides 200mcg of Chromium per vegecap.
Blood sugar balance

Sugar cravings

Healthy metabolism
Each vegecapsule provides:
Chromium (picolinate) 200ug
Also contains: Microcrystalline cellulose (bulking agent), magnesium stearate (anti-caking agent), cellulose gum, hydroxypropylmethyl cellulose(vegetable capsule shell).
Each 200ug of elemental chromium is from 1.6mg (1,600 ug) of Chromium Tripicolinate, as Nutrition 21's Chromax. Chromax is a certified biologically active form of chromium picolinate, a yeast-free source of chromium.
As a food supplement for adults, one (1) to three (3) capsules daily, preferably at mealtime, or as directed by a healthcare practitioner.
Caution with diabetic medication, monitor blood sugar levels. Always read the label and use as directed. Vitamins are supplementary to a balanced diet. If symptoms persist consult your healthcare professional