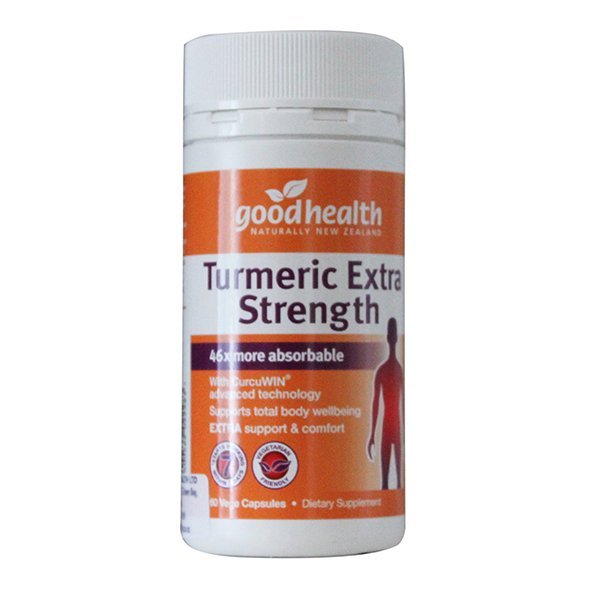 Good Health
Good Health Turmeric Extra Strength 60 Capsules
ood Health Turmeric Extra Strength is a high strength Curcumin formula for extra total body support. Curcumin is the scientifically proven ingredient found in Turmeric. Turmeric Extra Strength contains a unique Curcumin extract, CurcuWIN®, that uses advanced technology to enhance absorption by more than 46 x for greater joint comfort. This powerful formula also offers support for the cardiovascular, digestive and nervous systems. *High quality Boswellia provides further joint support & is clinically shown to start working within 7 days.
Additional Information
Product Benefits
Ingredients
Dosage
Precautions
Includes CurcuWIN® turmeric extract which is 46 x more absorbable than standard turmeric
Plus high quality AKBA Boswellia
Plus Artemisia annua (Sweet wormwood)
NO Polysorbate 80
Multiple benefits for multiple health conditions
Vegetarian friendly capsule
More powerful and is suited to conditions that need EXTRA support and comfort
*Clinically researched and shown to start working in 7 days
Convenient for multiple uses
Suits a wider demographic​
*If uncomfortable take up to 2 capsules daily with food.
Active Ingredients: (per vege capsule)
CurcuWIN® Turmeric extract
Equiv. Curcumin
200mg
40mg
Herbal extract equivalent to dry:
Boswellia serrata (Boswellia) gum
Equiv. Acetyl keto-β – Boswellic acid (AKBA)
500mg
15mg
Artemisia annua (Sweet Wormwood) herb
500mg
Take 1 capsule daily with food.
*If uncomfortable take up to 2 capsules daily with food.
Anti-coagulant medication like warfarin unless blood is monitored
Gall stones, Bile duct obstruction or people on chemotherapy medications
Pregnancy and breastfeeding
If symptoms persist consult your healthcare professional
Keep out of reach of children