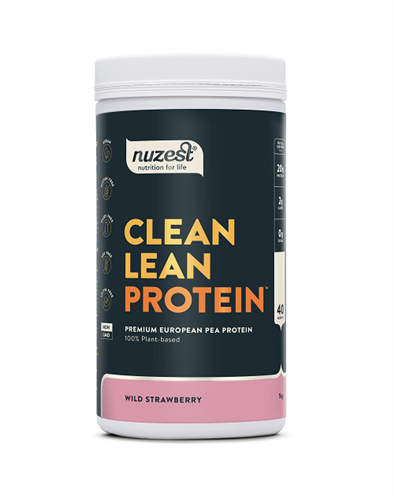 Nuzest
Nuzest Clean Lean Protein Wild Strawberry 1KG
Clean Lean Protein is protein in its purest form - natural and free from all common allergens. No gluten, dairy or soy GMOs or artificial preservatives. It's 100% vegetable, low in carbohydrates and high in digestible protein. Clean Lean Protein is the ideal protein supplement to support an active lifestyle and good nutrition. Perfect for those wanting to look, feel and perform at their best. Choose from four flavours or Just Natural.
Ingredients
Dosage
Precautions
Pea Protein Isolate , Natural Strawberry , Red Beet Powder , Vanilla Flavour, Katemfe Fruit Extract (Thaumatin)
Nutrition Facts (per 100g)
Energy 1545 kj
Protein 78.7 g
Fat 3.8 g
- saturated 0.6 g
Carbohydrate 4.8 g
- sugar 0.4 g
Dietary fibre, total 2.3 g
Sodium 1418 mg
Add 2 scoops (25g) to a shaker containing 300ml or more of water or milk (eg. coconut, almond or low fat) and shake.
Or blend with yoghurt, fruit or berries into a delicious smoothie.
Always read the label. Use only as directed.
Nutritional supplements may only be of assistance if the dietary intake is inadequate.
Supplements should not be used to replace a healthy balanced diet and adequate physical exercise.
Keep all medications and supplements out of reach of children.
Not suitable to those with pea or legume allergies.