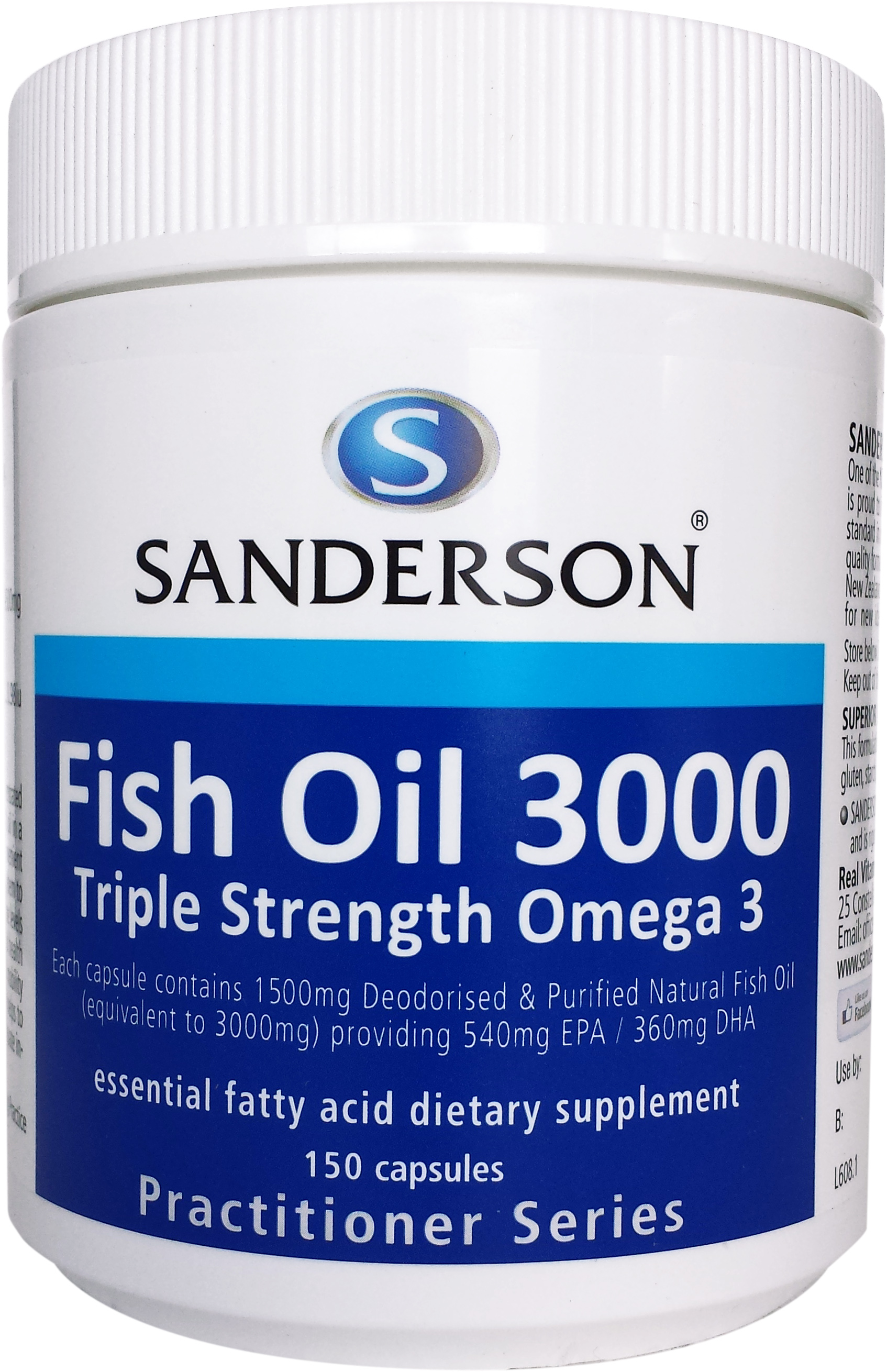 Sanderson
Sanderson Fish Oil 3000 150 Capsules
SANDERSON Fish Oil 3000 has all the EPA and DHA of 3000mg, but in an easy to swallow 1500mg softgel capsule; ideal for people taking higher doses on regular basis.
Product Benefits
Ingredients
Dosage
Precautions
1500mg purified concentrated natural fish oil rich in EPA and DHA; genuine high potency equivalent to 3000mg providing 540mg EPA and 360mg DHA
Easy to swallow smaller capsule size
Deodorised with natural citrus oil for a pleasant customer experience
SANDERSON Fish Oil 3000 supports healthy cardio-vascular health; promotes joint comfort and mobility by assisting with inflammation; helps maintain healthy brain function, mental balance and acuity, and vision; assists with the maintenance of healthy skin condition.
| | |
| --- | --- |
| Concentrated Natural Fish Oil | 1500mg |
| Supplying Omega 3 Polyunsaturates | 900mg |
| Eicosapentanoic Acid (EPA) | 540mg |
| Docosahexaenoic Acid (DHA) | 360mg |
| Vitamin E (d-alpha Tocopherol 1.0mg) | 0.98iu |
1 capsule per day or as professionally prescribed. Take with food.
Use with caution in bleeding disorders. Stop this supplement 2 weeks prior to surgery. LOW ALLERGY FORMULATION Free from artificial colouring, flavours, & preservative, yeast, wheat, sugar, starch, nuts, gluten, diary & corn.