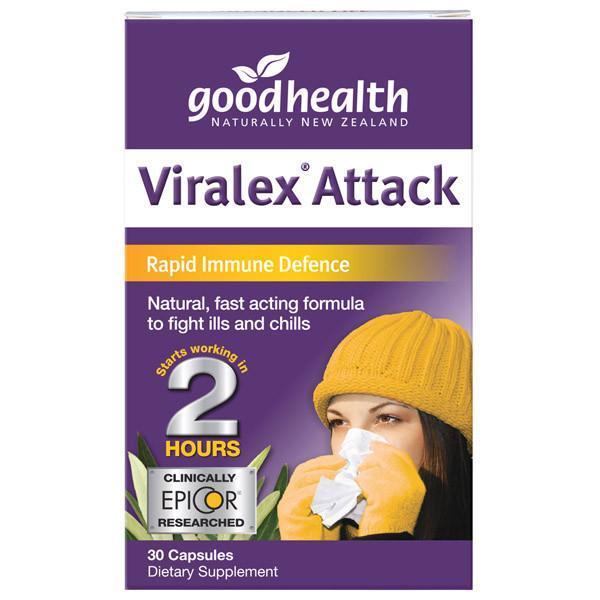 Good Health
Good Health Viralex Attack 30 Capsules
Viralex® Attack is a premium, extra strength formula designed to support the body's immune response when it's needed most. Viralex® Attack is best suited for the sudden onset of winter challenges. It's active ingredients help deliver rapid immune support to your body. Viralex® Attack is a potent combination to quickly support the immune defences when you need it most.
Additional Information
Product Benefits
Ingredients
Dosage
Precautions
This new formula contains now contains EpiCor - that starts working in 2 hours along with Viralex Attacks great other ingredients such as Olive leaf, Umckaloabo root and Zinc. These are essential for a healthy immune function and to support the body to gain optimal health and wellbeing during the winter season.
Supports healthy immune function
Rapid immune support
Help fight winter ills and chills
Easy to carry pocket/purse size
Each capsule contains,

Olive Leave 2700mg
- Equiv. Oleuropein 60mg
Umckaloabo Root 90mg
EpiCor™ 250mg
Zinc (as amino acid chelate)
- Equiv. Zinc 5mg

No added gluten egg, dairy or soy.
Adults: Take 1 capsule 3 times daily with food or as professionally advised. Children 6-12 years: Take 1 capsule 2 times daily with food or as professionally advised. Maintenance dose: Adults & children: Take 1 capsule daily with food or as professionally advised.
Not recommended during pregnancy or breastfeeding.

Not to be used by children under 2 years of age.

Do not use if tamper seal is broken.

No artificial flavours, sweeteners, preservatives or colour used in this product.