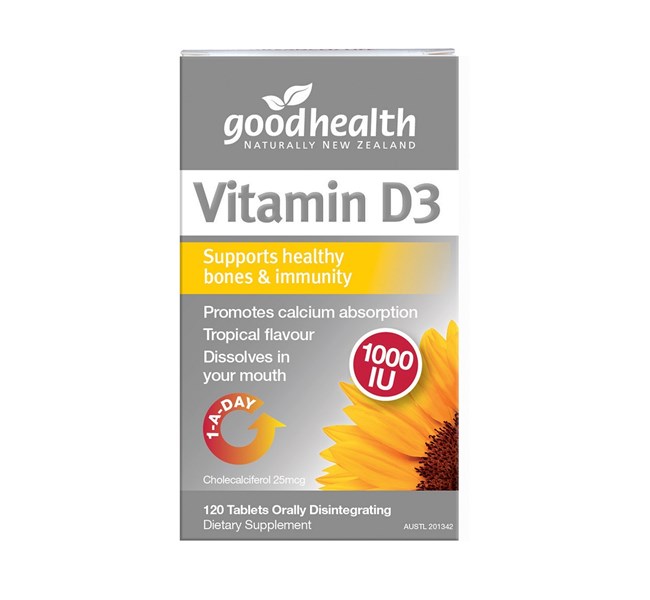 Good Health
Good Health Vitamin D3 120 Chewables
Good Health Vitamin D3 provides 1000IU of Vitamin D3, the sunshine vitamin. Vitamin D helps to build and maintain strong healthy bones by stimulating the uptake and absorption of calcium into the bone. It also helps with managing the winter blues by supporting mental and emotional wellbeing.
Additional Information
Product Benefits
Ingredients
Dosage
Precautions
Vitamin D is fast becoming one of the most common nutrient deficiencies. It helps to build and maintain strong healthy bones and teeth by stimulating calcium absorption, but it's not just about strong bones and teeth - research shows that Vitamin D deficiency is implicated in many other modern health issues too. Good Health Vitamin D3 is a delicious tropical flavoured tablet that instantly dissolves in your mouth so it's ideal for people of all ages. It's important for those that spend much of their time indoors at work, school or home.
Instantly dissolved in your mouth
Supports calcium absoprtion, healthy bones and immunity.
Ideal for the family.
Each tablet contains,

Cholecalciferol 25mcg
- equiv. to Vitamin D3 1000IU
Take 1 tablet daily with food.
Possible interference with calcium channel blockers

Hypercalcaemia, not to be taken with hyperparathyroidism or sarcoidosis without medical supervision

Take 2 hours away from cholesterol lowering medication.