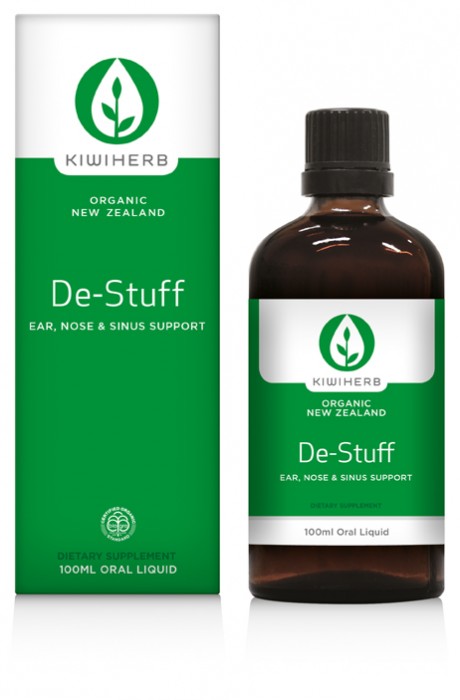 Kiwiherb
Kiwiherb De Stuff 100ml
De-Stuff is a pleasant tasting formula designed specifically for the symptomatic relief of mild upper respiratory tract infections, and may reduce the severity and duration of colds.
Product Benefits
Ingredients
Dosage
Precautions
Made from certified organic Elderflower, Echinacea root, Peppermint and Ribwort, this formula has a natural, fresh minty taste.
Symptomatic relief of mild upper respiratory tract infections

Reduces severity and duration of colds

Natural fresh minty taste

Certified organic formula
Ribwort (organic) 150mg/ml,
Elderflower (organic) 115mg/ml,
Echinacea purpurea root (organic) 110mg/ml,
Peppermint (organic) 50mg/ml.
In a base of organic apple juice concentrate. Contains no artificial colours, flavours, sweeteners, preservatives, gluten, yeast or dairy derivatives. Contains alcohol.
Adults: 5-10ml daily;
Children 6-12yrs: 2.5 - 5ml daily (or use De-Stuff for Kids).
Take 2 - 3 times daily. Dilute in a small amount of water or juice.
Those allergic to Asteraceae family plants (e.g. chamomile, artichokes, daisies) should take care when taking Echinacea due to possible allergic reaction.

Temporary harmless tingling in the mouth may occur immediately after taking as a natural effect of high quality Echinacea – this is normal and indicative of the quality & potency of Echinacea.