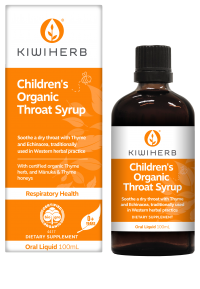 Kiwiherb
Kiwiherb Childrens Organic Throat Syrup 100ml
Children's Organic Throat Syrup contains certified organic Echinacea and Thyme, and has been formulated for children 0 - 12 years of age. Designed to help soothe dry tickly throats and support recovery.
Additional Information
Product Benefits
Ingredients
Dosage
Precautions
This formula may assist in the management of upper respiratory tract infections, and reduce the severity and duration of colds.
Naturally sweetened with Thyme and Manuka Honey.
Soothe dry tickly throats

May support respiratory health

May reduce the severity & duration of colds

Specially formulated for children 0 - 12 years

Great tasting syrup

Certified organic formula
Echinacea (organic) 25mg/ml,
Thyme (organic) 40mg/ml.
In a base of organic Manuka Honey and Thyme honey with vegetable glycerine. Naturally flavoured with orange and lemon oil.
Infants under 1yr: 4 - 20 drops (0.2 - 1ml);
Children 1-2yrs: 1 - 2ml,
Children 3-5yrs: 2 - 4ml,
Children 6-12yrs: 5 -10ml.
Take 3 - 5 times daily. May be taken undiluted or in a small amount of water or juice.
Those allergic to Asteraceae family plants (eg chamomile, artichokes, daisies) should take care when taking Echinacea due to possible allergic reaction.
A tingling or numbering sensation may occur in the mouth immediately after taking - this is normal and indicative of the quality & potency of Echinacea.