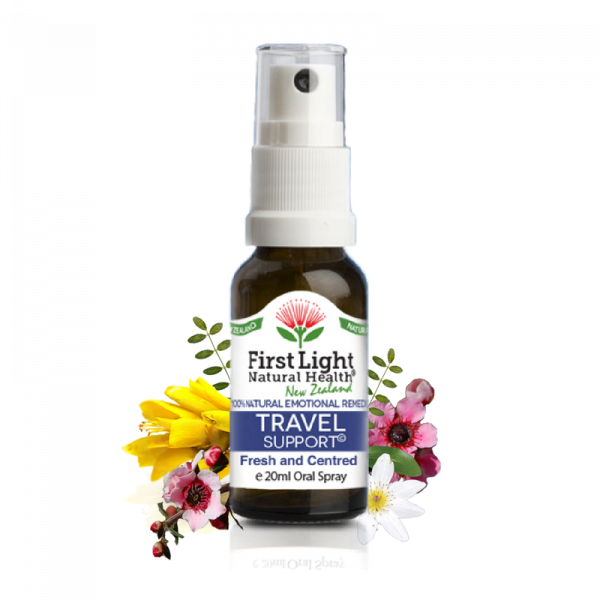 First Light Natural Health
First Light Travel Support 20ml Oral Spray
Negative condition: Tiredness, fogginess, fatigue, fear, motion sickness
Positive outcome: Vibrant, clear headed, alert, centred
An emotionally balancing flower essence blend to support you to stay fresh, centred and balanced during and after travel. Supports the spirit of adventure and natural sense of excitement and anticipation. Use when travelling by plane, train, boat, bus or car or undertaking any type of travel, trip or journey, including daily commute to work. May assist with fogginess, fear, tiredness and motion sickness.
Product Benefits
Ingredients
Dosage
Travel Support© provides natural support when you are experiencing any of the following:
• Having to travel constantly for work or business
• Moving overseas, long distance travel or relocation
• Trepidation about visiting a foreign country
• Motion sickness or emotional discomfort during travel
• Fears associated with travelling
• Feeling tired, weary or fatigued
• Feeling you have lost the spirit of adventure
Potential:
• Experiencing a natural sense of excitement and anticipation
• Expanded horizons and being open to opportunities
• Staying centred and grounded during and after travel
• Maintaining a sense of balance and emotional wellbeing amidst a busy travel schedule
First Light Natural Health® flower essence blends are sustainably made in total cooperation with nature and contain only natural ingredients.
100% natural
Animal and plant cruelty free
Free from fragrances, petrochemicals, parabens and other additives
Carefully made in New Zealand with New Zealand native plants
Contains: alkaline mineral water, ethanol (alcohol as a natural preservative), aqueous botanical infusions of Kanuka (Kunzea ericoides), Kowhai (Sophora microphylla), Bracken Fern (Pteridium esculentum), Shining Spleenwort (Asplenium oblongifolium), Clematis (Clematis paniculata) and Kawakawa (Macropiper excelsum).
First Light Natural Health® Travel Support® is made with award winning First Light Flower Essences of New Zealand®:
No 13 Kanuka - Spontaneity
For those who feel under pressure, tired, weary or fatigued. Supports you to feel strong and capable.  Supports a feeling of regeneration, balance and inner strength.  Supports the free flow of the instinctual nature, spontaneous self-expression and the natural expression of your vital self.
No 25 Kowhai - Growth
For those who find it difficult to adjust to change, leave behind the familiar or move into a new experience. Supports you to move forward smoothly in times of transition or travel.  Supports curiosity, growth, being open to expanded horizons, new possibilities and adventures. 
No 69 Bracken Fern - Triumph
For those who are dealing with known challenging influences or situations. Supports you to feel in control and 'on course'. Supports a strong resilient approach and the ability to quickly 'bounce back' from challenges and overcome difficult situations. Supports self-determination and your ability to feel strong and survive in the 'jungle' of life. 
No 72 Shining Spleenwort - Synchronicity
For those who feel out of 'sync', 'out of time' or out of alignment with their natural rhythms. Supports you to get in tune with the rhythms, cycles and timing of nature and life.  Supports your natural ability to be in the right place at the right time, to go with the flow, embrace change and be in tune with the magic of the moment.
No 77 Clematis - White Light Protection
For those who experience fear, terror or feelings of disempowerment. Supports you to feel in control in difficult or chaotic situations. Supports you to feel composed, uplifted, protected and clear of negative energy. Supports a sense of feeling grounded, settled and being able to make empowered choices.
No 84 Kawakawa - Faith
For those who have difficulty moving forward and embracing the new and the unknown. Supports a sense of faith and natural sense of excitement, interest and anticipation in life. Supports you to 'travel' lightly, be in the 'now' and to embody the experience of true freedom. 
Easy to use 20ml oral spray. Spray 2-4 times directly under the tongue.
Adult: Repeat 3-4 times daily. Child: Repeat 2-3 times daily.
Can be taken more frequently if desired and for as long as required.
For maximum benefit, once the bottle is opened, continue taking until finished.