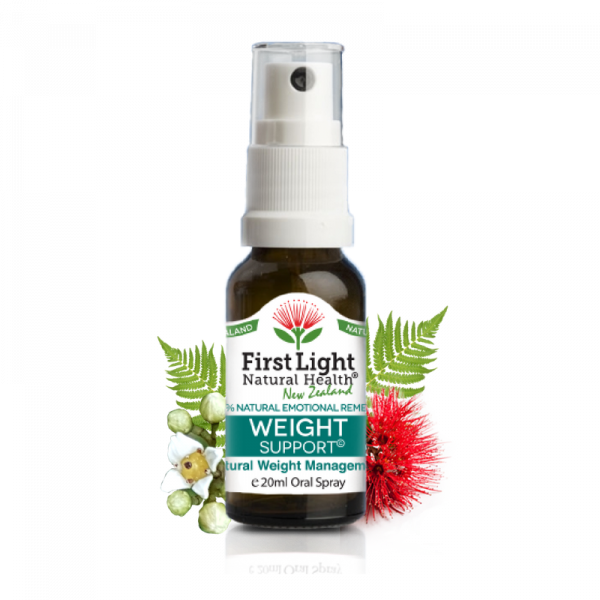 First Light Natural Health
First Light Weight Support 20ml Oral Spray
Negative condition: Emotional or unhealthy eating, lack of willpower
Positive outcome: Inner strength, personal will, self-worth
An emotionally liberating flower essence blend to support natural weight management. Supports emotional balance and self-control when wanting to create and sustain positive changes in your life. Supports you to release an old definition of yourself and develop a more positive self-image and a healthy relationship with yourself. May assist in managing appetite and cravings. Use in conjunction with a healthy diet and lifestyle changes.
Additional Information
Ingredients
Dosage
Weight Support© provides natural support when you are experiencing any of the following:
• Struggling with or needing to let go of an old self-image
• Struggling to initiate new routines for your holistic wellbeing
• Having difficulty sticking to a healthy diet or an exercise plan
• Feeling you have no inner strength or willpower
• Feeling heavy and weighed down with unexpressed emotions
• Holding onto negative feelings about yourself and your body
• Feeling resentful, hopeless or powerless in connection with your body image
Potential:
• Letting go of old unhelpful beliefs about your body
• Releasing old emotional and mental baggage
• Opening up to a new relationship with food and eating patterns
• Tapping into your inner strength and willpower to create and sustain positive changes in your life
• Developing a positive self-image and a healthy relationship with yourself
• Knowing that everything is possible on your journey of self-transformation
First Light Natural Health® flower essence blends are sustainably made in total cooperation with nature and contain only natural ingredients.
100% natural
Animal and plant cruelty free
Free from fragrances, petrochemicals, parabens and other additives
Carefully made in New Zealand with New Zealand native plants
Contains: alkaline mineral water, ethanol (alcohol as a natural preservative), aqueous botanical infusions of Pohutukawa (Metrosideros excelsa), Poroporo (Solanum laciniatum), Hen and Chickens Fern (Asplenium bulbiferum), Whau (Entelea arborescens), Native Hawthorn (Carpodetus serratus) and Akeake (Dodonaea viscosa).
First Light Natural Health® Weight Support® is made with award winning First Light Flower Essences of New Zealand®:
No 1 Pohutukawa - Initiative
For those who are easily influenced and find it difficult to say 'no'. Supports the connection with your own inner power and will,  self-awareness and a strong sense of self.  Supports self-assertion, initiative and the desire to bring something new into being. 
No 24 Poroporo - Willpower
For those who feel resentful, resigned, powerless and unable to transcend old negative emotional patterns. Supports personal transformation, disciplined will and personal resolve.  Supports self-honesty, emotional intelligence, feeling 'on top' of emotions and knowing that everything is possible. 
No 70 Hen & Chickens Fern - Strength
For those who have difficulty overcoming self-defeating habits.  Supports you to dig deep to draw on strength from within. Supports you to tap into greater levels of strength and courage, to build emotional stamina and keep persevering.
No 75 Whau - Release
For those who have difficulties letting go of the old and outworn attitudes and behaviours. Supportive during times of transition and change. Supports the release of outworn attitudes to habits, people, places or things. For those seeking to make a radical shift and initiate positive
No 76 Native Hawthorn - Moderation
For those who have difficulty moderating emotional responses and developing self-control. Supports moderation, harmony and balance. Supports the gentle release of negativity, past upsets and old emotional wounds. Supports the balanced flow of energy and your ability to adapt and adjust.
No 78 Akeake - Change
For those experiencing suffering, upheaval, turmoil or sorrow. Supports you to find emotional balance and inner peace during upheaval or enforced change. Supports the freeing up of old stuck energy, beliefs and ideas. Supports a feeling of initiative, clarity and awareness. Supports you to stay in the present and respond positively to changing circumstances.
Easy to use 20ml oral spray. Spray 2-4 times directly under the tongue.
Adult: Repeat 3-4 times daily. Child: Repeat 2-3 times daily.
Can be taken more frequently if desired and for as long as required.
For maximum benefit, once the bottle is opened, continue taking until finished.