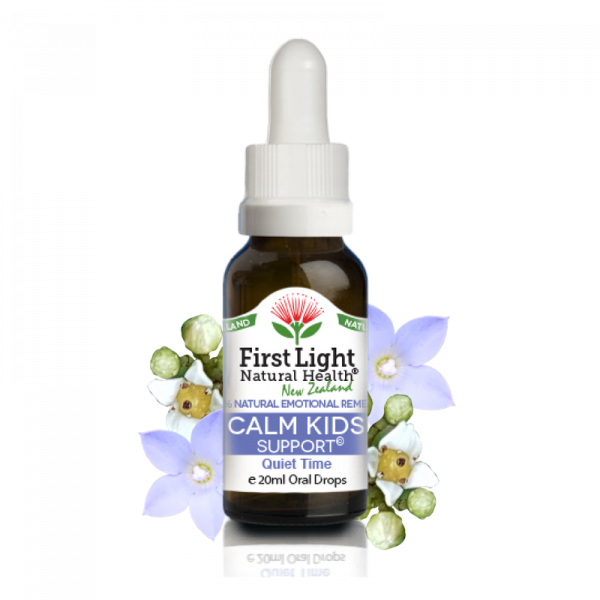 First Light Natural Health
First Light Kidz Calm 20ml Oral Drops
Negative condition: Irritable, restless, difficulty adapting, over-reactive
Positive outcome: Peace, calm, adaptability
An emotionally calming flower essence blend to support healthy emotional expression in children. Supports children to develop healthy emotional resilience, consistency and adaptability. Ideal for use with everyday childhood ups and downs, high stimulus situations or when needing some 'quiet time'. Supports a child during changes in routine, family structure or home environment or when starting a new school.
Product Benefits
Ingredients
Dosage
Calm Kidz Support© is ideal for children who are:
• Starting school, learning a new skill or subject or taking a test or exam
• Going through changes in family structure or routines
• Moving house, relocating or changing schools
• 'Wound up', over-reactive or 'all over the place'
• Living in difficult or emotionally volatile environments
• Exhausted, over-stimulated or having difficulty settling
Potential:
• Healthy emotional resilience
• Emotional consistency and balance
• Being able to adapt easily to change
• Having pride and pleasure in achievements
• Overcoming insecurity, doubt and disappointment
First Light Natural Health® flower essence blends are sustainably made in total cooperation with nature and contain only natural ingredients.
100% natural
Animal and plant cruelty free
Free from fragrances, petrochemicals, parabens and other additives
Carefully made in New Zealand with New Zealand native plants
Contains: alkaline mineral water, ethanol (alcohol as a natural preservative), aqueous botanical infusions of Matata (Rhabdothamnus solandri), Native Harebell (Wahlenbergia gracilis), Mingimingi (Leucopogon fasciculatus), Rasp Fern (Doodia media), Native Hawthorn (Carpodetus serratus) and Tanekaha (Phyllocladus trichomanoides).
First Light Natural Health® Calm Kids Support® is made with award winning First Light Flower Essences of New Zealand®:
No 8 Matata - Adaptability
For those who have a very busy mind and find it difficult to 'switch off'. Supports adaptability, flexibility, balance, inner peace, tranquility, calmness, and open-mindedness. Supports the ability to multi-task and allow further answers to come to mind.
No 12 Native Harebell - Tenacity
For those who feel emotionally drained, stuck or trapped. Supports a feeling of emotional stability and consistency. Supports you to create healthy emotional bonds with others, adapt to changes and develop emotional resilience.
No 15 Mingimingi - Dignity
For those who feel 'weighed down', heavy, sad, low or disinterested. Supports you to lighten up and 'smell the roses'. Supports you to find quiet inner peace, pleasure in life and satisfaction in your accomplishments.
No 38 Rasp Fern - Boundaries
Supports you to gently clear negative energetic imprints associated with emotional experiences. Supports you to shift negative feelings, feel emotionally secure and create healthy emotional boundaries. Supports the restoration of peace and stillness after emotionally charged situations.
No 76 Native Hawthorn - Moderation
For those who have difficulty moderating emotional responses and developing self-control. Supports moderation, harmony and balance. Supports the gentle release of negativity, past upsets and old emotional wounds. Supports the balanced flow of energy and your ability to adapt and adjust.
No 81 Tanekaha - Joy
For those who experience despondency, a gloomy outlook, boredom, disappointment, doubt or loss of joy. Supports you to move on from old sorrows and be open to experiencing joy. Supports a sunny outlook, uniqueness, the balanced use of energy and a sense of delight in daily life.
Easy to use 20ml oral drops. Place 2-4 drops directly under the tongue.
Adult: Repeat 3-4 times daily. Child: Repeat 2-3 times daily.
Can be taken more frequently if desired and for as long as required.
Alternatively add 8 drops to a bottle of water and drink throughout the day.
For maximum benefit, once the bottle is opened, continue taking until finished.