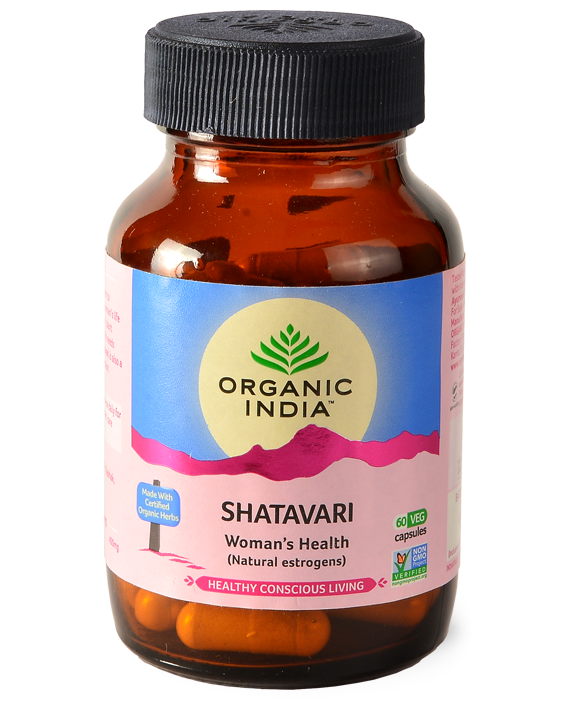 Organic India
Organic India Shatavari Hormonal Balance 90 Capsules
Shatavari is a herb that is traditionally taken to support well-being through all phases of a woman's life cycle. Shatavari provides natural and organic plant-based estrogens that support woman's health needs from adolescence through adulthood. Shatavari is also a natural diuretic that helps relieve fluid retention.
Additional Information
Product Benefits
Ingredients
Dosage
Precautions
90 Capsules per bottle
Made with certified organic herbs
Vegan – Vegetarian – Gluten Free
NON-GMO Project Verified
Kosher and Halal Certified
Made with sustainability grown herbs in veggie capsules
Shatavari (Asparagus racemosus) is an Ayurvedic herb that is traditionally taken throughout a woman's life to support and promote normal and healthy hormonal and reproductive functions.*

*These statements have not been evaluated by the MPI. This product is not intended to diagnose, treat, cure or prevent any disease
1-2 capsules with food & water twice a day for at least 3 months or as directed by your healthcare provider. Safe for long-term use.
As with any dietary supplement, consult your healthcare practitioner before using our products, especially if you are pregnant, nursing, anticipate surgery, take medication on a regular basis or are otherwise under medical supervision. Stop immediately if you experience any adverse reaction.