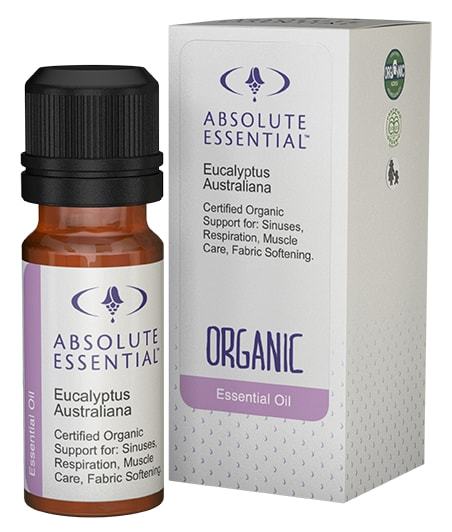 Absolute Essential
Absolute Essential Eucalyptus Australiana Oil Certified Organic 10ml
Absolute Essential Organic Eucalyptus Australiana Oil is an invigorating and lively oil that has been used for centuries to support natural respiration and help clear congestion. It has stimulating, cleansing qualities that have useful application on the body, and also makes a great domestic cleaner.
Product Benefits
Ingredients
Dosage
Precautions
Sinuse
Respiration
Fabric Softener
Muscle Tonic
Blends well with: Peppermint, Lavender Spike and Thyme Thymol.
Organic Eucalyptus Australiana Oil.
Sinuses - Add 5-10 drops to a steam inhalation and breathe deeply for 5 minutes to support normal respiration. Eucalyptus has antibacterial, anti-viral and antiseptic properties, as well as a deep penetrating aroma, to help clear the respiratory tract and promote easy breathing.

Respiration - To help clear congestion of the throat and chest, add 20 drops to 1/4 teaspoon of massage cream or carrier oil and apply three times a day around the throat, back and chest. Especially beneficial at night-time to encourage sleep without coughing.

Fabric Softener - Add 5 drops of Eucalyptus oil to your wool hand wash and your jumpers will come out soft and smelling fresh. Or add 10 drops to the rinse cycle in your washing machine and all your clothes will feel softer. Use as required.

Muscle Tonic - Mix 5-20 drops with a little massage cream or Olive oil and rub vigorously onto the area concerned. Acts on tight and tense muscles. Use as required.
Directions
Blends well with: Peppermint, Lavender Spike and Thyme Thymol.
May be irritating to sensitive skin. This product is less suitable for children under six years of age. If ingested, drink milk. Avoid eyes, flush with water. Keep out of reach of children.
Therapeutic plant oils are used to support natural body process for optimum health and wellbeing. The information here is NOT meant as recommendation for cure of any medical condition or disease.