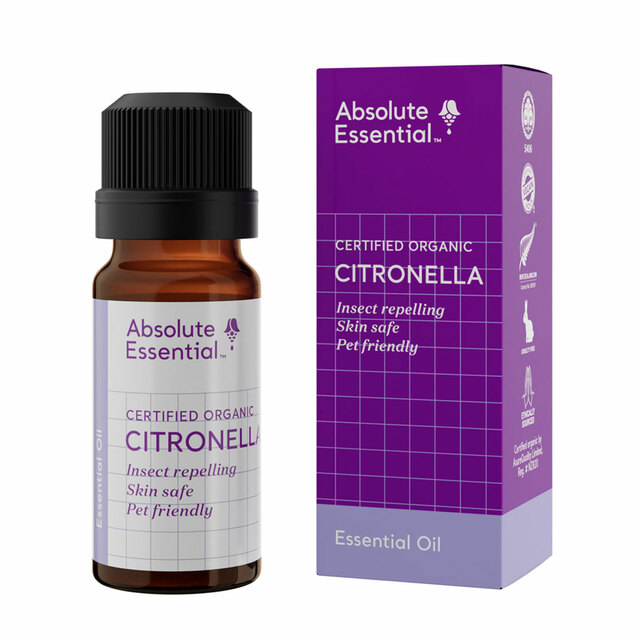 Absolute Essential
Absolute Essential Citronella Oil Certified Organic 10ml
Used extensively as an effective natural repellent, Citronella has a variety of active properties that offer useful applications on your body, in your garden, on your pets and in your home. Its refreshing, lemon-sweet fragrance and stimulating qualities are cleansing and tonic for a range of therapeutic uses. Blends well with Geranium, all Eucalyptus oils, Lemongrass.
Product Benefits
Precautions
Insect Repellent
Diffuse a few drops in a diffuser or apply in carrier oil to the skin to repel annoying insects.
Plant Pests
Citronella can be added to a little warm water, shaken vigorously and sprayed on your lettuce to repel pests, repeat 3 days in a row. Totally non-toxic.
Cat Repellent
Spray 20 drops of citronella diluted in 200 ml of warm water where cats scratch or urinate. They dislike the scent and will avoid these areas. It is safe for use on furniture.
Flea Repellent
Add 20 drops of citronella and 20 drops of Eucalyptus to warm water and spray on carpet and furniture. Repeat as required.
The scent of Citronella may be irritating to some asthmatics. If ingested, drink milk. Avoid eyes, flush with water. Keep out of reach of children.
Therapeutic plant oils are used to support natural body process for optimum health and wellbeing. The information here is NOT meant as recommendation for cure of any medical condition or disease.