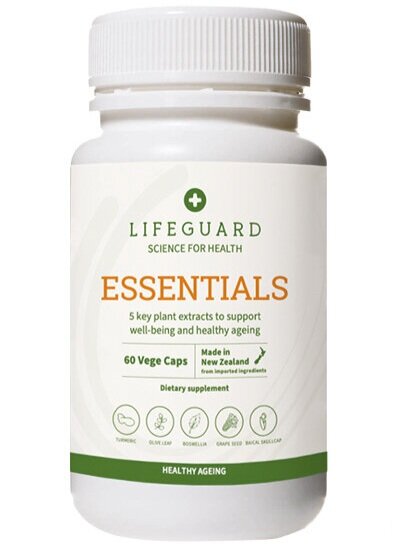 LifeGuard Essentials
LifeGuard Essentials 60 Capsules
From middle-age on, overstimulation of the body's inflammatory response affects cells and organs. Now there is an alternative.
Unlike other products which contain only turmeric and maybe one or two other ingredients, LIFEGUARD ESSENTIALS, contains five potent bioactives. It is New Zealand's most comprehensive natural anti-ageing formula
Formulated by Dr Roderick Mulgan, MD, LIFEGUARD ESSENTIALS puts time on your side.
Ingredient
Quantity per cap
Details
Turmeric

WITH black pepper extract

250 mg
Equivalent to 50 mg curcuminoids
5 mg
Equivalent to 250 mg dry Piper nigrum
Olive leaf extract
200 mg
Equivalent to 2000 mg dry, with 20% oleuropein
Red grape seed extract
75 mg
Equivalent to 9,000 mg dry vitis vinifera
Red grape skin extract
75 mg
Equivalent to 1,500 mg dry vitis vinifera
Boswellia extract
62mg
30% boswellic acid from Boswellia Serrata
Baical skullcap extract
30 mg
Equivalent to 1500 mg dry Scutellaria baicalensis
Recommended dose:
Two capsules a day
Store in a cool dry place below 30°c.
Keep out of reach of children. Do not use if cap ring or seal under cap isbroken or missing.
Not to be taken during pregnancy.
Lifeguard Health are the age specialists