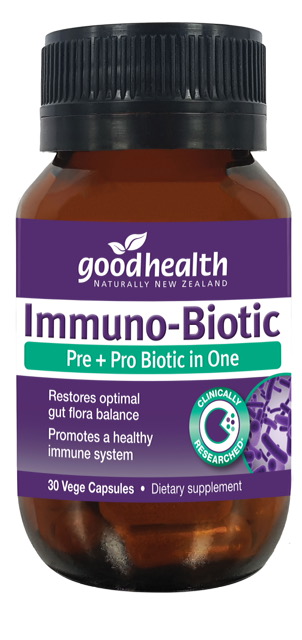 Good Health
Good Health Immuno-Biotic 30 Capsules
Did you know? 80% of your immune system is located in your gut! Only when your gut is functioning well will your immune system be at its optimum.
Good Health Immuno-Biotic is a clinically researched PRE and PRObiotic in one! The PREbiotic feeds the PRObiotic and other good bacteria in the gut, together restoring optimal gut flora balance and immune health.
Product Benefits
Ingredients
Dosage
Precautions
PRE and PRO Biotic in one - the pre-biotic increase probiotic effectiveness
Restores optimal gut flora balance
Promotes a healthy immune system
Each vege capsule contains,
Yeast dried fermentate EpiCor® 250mg
Bacillus coagulans* 1 billion CFU
L-Glutamine 100mg
Zinc (as Gluconate) 5mg
Maintenance: 1 capsule daily with food. Acute: 2 capsules (clinically researched* dose), once daily with food.
None known.
Safe to take during pregnancy and breastfeeding.