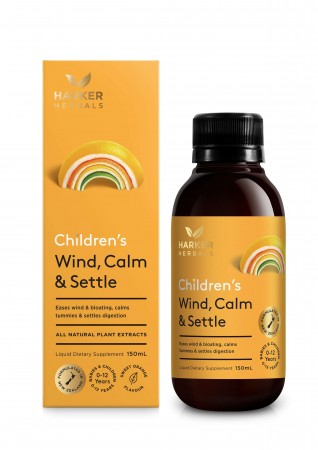 Harker Herbals
Harker Herbals Childrens Wind, Calm & Settle 150ml
A calming, gentle herbal syrup to:
Soothe and ease upset stomachs
Improve digestion
Encourage settled rest by relaxing the nervous system
May relieve symptoms associated with bloating and gas
Active ingredients
Each 5ml dose contains:
Dill Antheum graveolens essential oil 6mg
Chamomile Matricaria recutita extract equivalent to dried flowers 2142mg
Mandarin oil – cold pressed Citrus reticulate5.75mg
Lemon Balm Melissa officinalis extract equivalent to dried herb 468.4mg
Base Syrup
Organic Rice Malt
Vegetable Glycerine
Glucose
Allergens
This product contains plant oil. It is free from allergens such as animal oil, animal matter, bee material, caffeine, cereals, crustacea, eggs, gluten, herbs not listed as active ingredients, milk, nuts, plant matter, polydextrose, quinine, seeds, soy, spices, sulphites and yeast. It has not undergone hydrolysis. It does not contain antioxidants. It is BSE-TSE free. No genetically modified organisms are used in the production of ingredients or compounds.