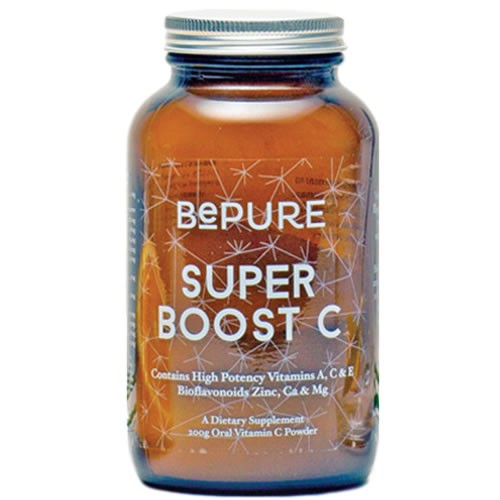 Be Pure
BePure Super Boost C Powder 200g
Our incredible BePure Super Boost C has an improved formula. Based on your feedback we've cut back the stevia by 25% to meet your taste buds, while still providing your body with our top quality, high strength vitamin C to keep healthy and energised.
BePure Super Boost C is not compressed into tablets with additives, but supplied in an easily absorbed pleasant tasting powder giving the best value per gram of Vitamin C.
Additional Information
Ingredients
Dosage
Vitamin C is the most important nutrient for supporting the work of the body's immune system. It has been found that Vitamin C boosts the manufacture of more antibody molecules required to assist the body in the defence of bacteria and viruses.
Unlike other Vitamin C products BePure Super Boost C has a two to one ratio of bioflavonoids to Vitamin C. What does this mean? Once the Vitamin C is in your body, the bioflavonoids recycle the vitamin C electron, essentially providing you with double the Vitamin C in one go.
Vitamin C is used throughout the body in multiple ways. From increasing your immunity, to improving your collagen for reducing aches and pains and improving the quality of your skin, hair and nails. It's also incredibly important for hormone synthesis and optimal hormone function.
Each 6 gram serve (1 tsp 5ml metric spoonful) contains a total citamin C per serve of 2.96g

All ingredients contain NO - gluten, yeast, soy protein, milk/dairy, corn, sodium, sugar, starch, artificial colouring, preservatives or flavouring.
ADULTS: 1/2 – 1 tsp daily or as required in a glass (250ml) of water. Try to take Super Boost C away from meals.
CHILDREN: 5 – 12 years 1/4 – 1 tsp once daily in a glass (250ml) of water. Try to take Super Boost C away from meals.

In times of high stress of sickness you can increase or decrease your intake of Super Boost C to the point that your bowels move. Once your bowels move you will know you have saturated your body with optimal levels of vitamin C.