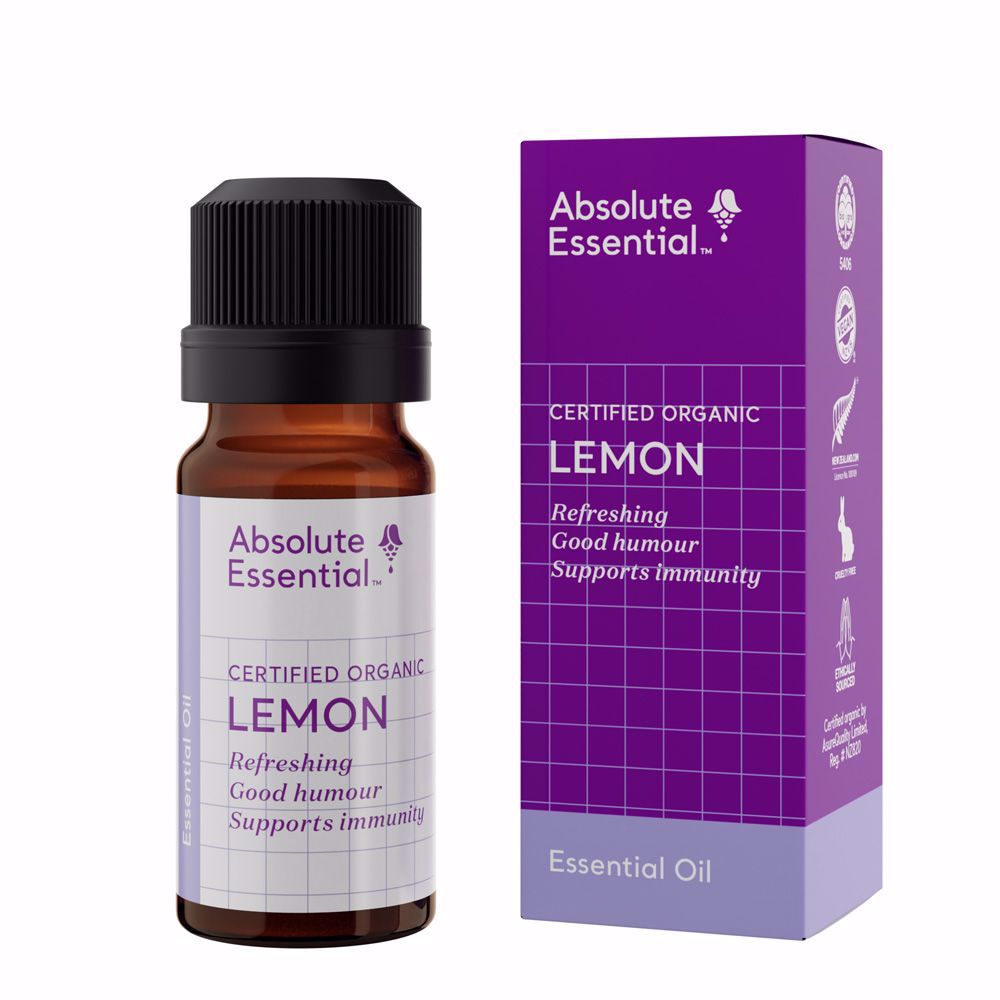 Absolute Essential
Absolute Essential Lemon Oil Certified Organic 10ml
Lemon oil has positive, uplifting qualities and supports clear thinking, humour and decisiveness.
Additional Information
Ingredients
Dosage
Precautions
It has cleansing and antibacterial properties and works well mixed with Bergamot to make a refreshing deodorant. A few drops on a warm compress may be used to support healthy circulation. Add drops to dish rinse water. Diffuse to cleanse and refresh air, and add a few drops to natural cleaning solutions to upgrade fragrance and efficacy.

Blends well with: Orange Sweet, Rosemary, Vetiver, Bergamot.

Both traditional Chinese and Indian medicine have a long history of use with lemon. It has been cited in treatments for food poisoning, malaria, typhoid and scurvy. It is considered a purifying agent on the blood and stimulating to healthy body process. It has been cited in remedies for colds, throat infection, anxiety and high blood pressure, and also used to promote cleansing in the lymphatic system and to help relieve muscular aches and pains.

The scent of Lemon is said to improve concentration.
Citrus Limonum, rind, cold pressed, certified organic, Argentina.
mmune System
Lemon oil may be used to support healthy immune function when fighting infection. Have 5-10 drops diffusing continuously in the home or at the office.
Feet Treat
Rejuvenate tired and sore feet after work by adding 5 drops of Lemon oil and cup of Epsom salts to a foot bath. This method also supports the body's natural lymphatic drainage processes. Repeat as required.
Circulation
To support healthy circulation and thus help protect against varicose veins, mix 50 drops of Lemon with 10mls of Sweet Almond oil and apply to the affected area daily.
Ant & Fly Repellent
To repel annoying flies and ants add 3-5 drops to a dish cloth and wipe down surfaces. Alternatively drop some oil in the ants path to discourage their progress. Repeat as required.
Lemon oil is slightly photo toxic so avoid sunlight after application to the skin. May cause irritation in sensitive skin. Should not be used by people with citrus allergies. May irritate if used in the bath or in combination with hot water and the skin. If ingested, follow with olive oil and seek advice. Avoid eyes, flush with water. Keep out of reach of children.
Please note:
Therapeutic plant oils are used to support natural body process for optimum health and wellbeing. The information here is NOT meant as recommendation for cure of any medical condition or disease.