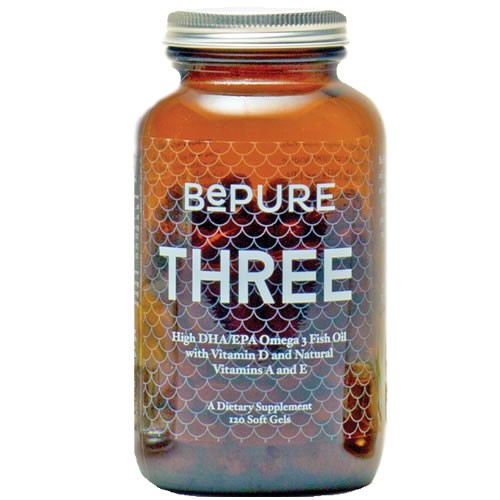 BePure
BePure Three 120 Soft Gels
After being extremely disappointed with the fish oils available on the market, Ben Warren set out to create his own super high strength Omega 3 fish oil supplement that not only met his incredibly high standards but was also affordable to the masses.
It took him 3 years of research and development to finally produce BePure Three, but it was well worth the wait!
Additional Information
Ingredients
Dosage
Precautions
Ben and BePure highly recommend that BePure Three is taken in conjunction with BePure One. If you're taking a fish oil (and we highly recommend that you do) here's what you need to know about BePure Three.
Why do we need BePure Three?
1. Guaranteed freshness and purity with no fishy aftertaste: BePure Three fish oil has been molecularly distilled and tested to document the virtual absence of all environmental pollutants such as PCB's, dioxins pesticides, and heavy metals, then enhanced with natural vitamin E as an antioxidant for freshness and purity, while the special capsule Ben chose ensures maximum protection of the nutrients.
2. It provides very high levels of active omega 3 ingredients and fat soluble vitamins: BePure Three contains highly concentrated levels of essential Omega 3 fatty acids DHA and EPA in comparison with cod liver oils and other fish oils available. DHA has been shown in particular to support the brain, eye, joint and heart health. While EPA supports good cardiovascular and brain blood circulation, good immunity, and healthy joint mobility. BePure Three has the added benefit of the natural vitamins A and D for immune cellular function.
3. It's sustainably sourced: BePure Three is made in NZ from small fish, caught wild from the pristine waters of the southern Pacific.
BePure Three is a high strength DHA/EPA Omega 3 Fish oil with Vitamin D and natural vitamins A and E.
Soft gel capsule includes gelatin, glycerin, purified water and iron oxide for light protection.
All ingredients contain NO - gluten, yeast, soy protein, milk/dairy, corn, sodium, sugar, starch, artificial colouring, preservatives or flavouring.
To ensure maximum absorption, avoid taking BePure Three on an empty stomach, or with drinks such as coffee, tea or alcohol.
BePure Three is designed to be taken with BePure ONE, together this powerful combo provides the best base nutrients your body needs on a daily basis.
Store in a cool dry place - no need to refrigerate.
Ben and BePure highly recommend that BePure Three be taken in conjunction with BePure One .
If you are pregnant, diabetic or using blood thinning drugs such as Warfarin, Aspirin, or if you anticipate surgery, consult with your health care professional before using this product.